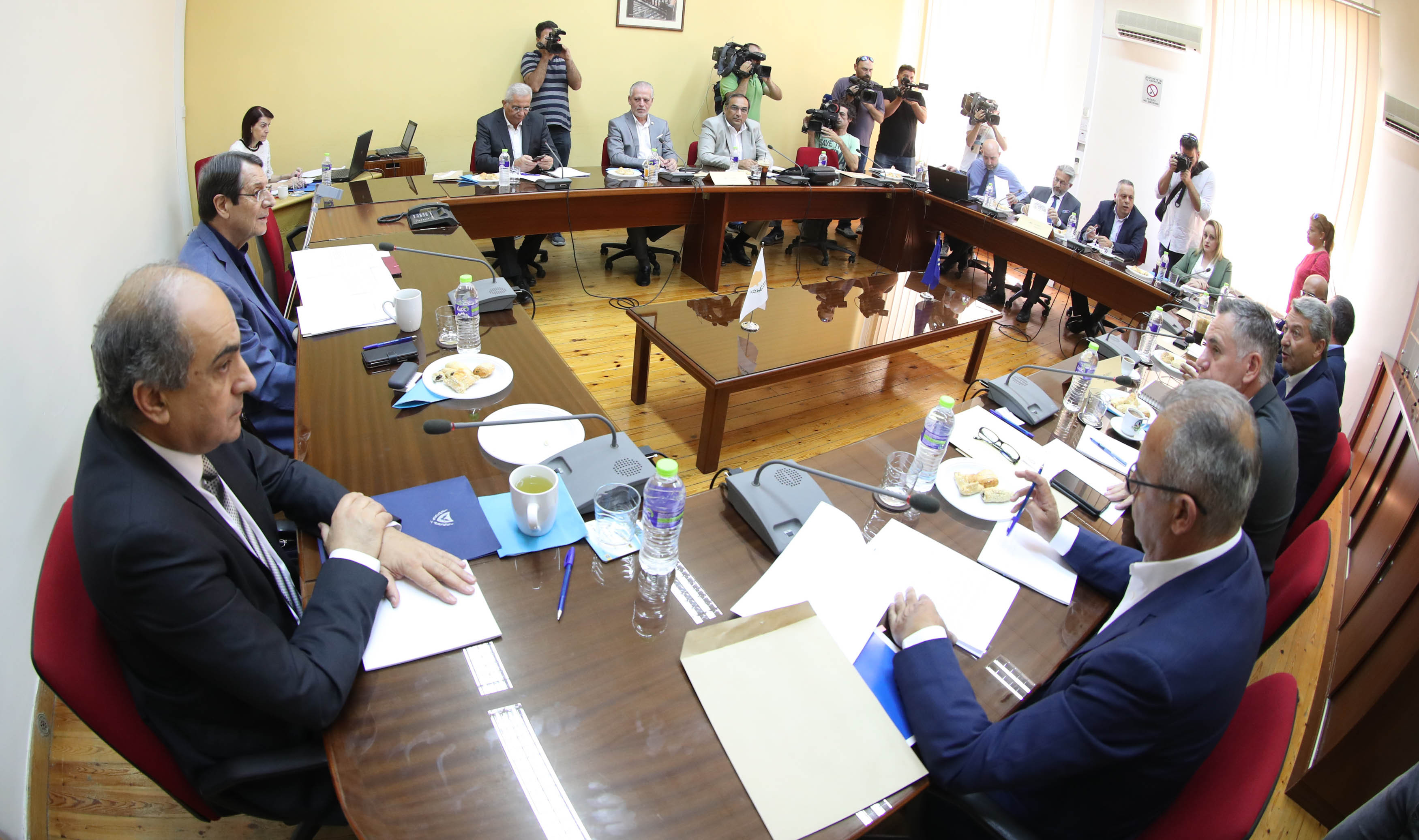 President Nicos Anastasiades will welcome today the political leaders at his presidential residence in Troodos, ahead of his meeting with Turkish-Cypriot leader Mustafa Akinci on 9 August. The Political Leaders Council is set for 10.30am.
Government Spokesman Prodromos Prodromou said that the President "will inform the political leaders of his approach, with good intentions but also with a firm political determination to resume to negotiations from the point they were left at".
"He should and he will listen to the political leaders, their own thoughts and suggestions, because the aim should be to bypass Turkey's stubbornness and efforts to substitute the Cyprus debate, and if possible to forget the six parameters of the UN's Secretary-General, which meant end of warranties, end of occupation troops, in order to lead us to discuss other issues", Mr. Prodromou said.
It will soon be clear whether Turkey has the courage to make meaningful negotiations
In the near future, it will be clear whether Turkey has the will and courage to enter into meaningful negotiations, as stipulated by the UN resolutions, the EU principles and rules, and the international law, the Cypriot Minister of Transport and Communications Vassiliki Anastasiadou mentioned during the annual commemoration of the 256th Infantry Battalion's fallen and missing soldiers.
The Minister of Transport added that it would also reveal whether the Turkish-Cypriot side has the opportunity to negotiate on the basis of the Cypriot interests, abandoning its provocatively illegal pronouncements on Famagusta.
The President of Cyprus is ready to engage in a new round of negotiations, picking them up from the point they were interrupted at Crans Montana, given the parameters set by the UN Secretary-General, so that we reach through dialogue a solution based on the United Nations' resolutions and decisions, as well as on the European Union's principles, values ​​and acquis, the Minister of Transport stated.
It is obvious that Turkey has been displaying the same intolerant attitude for decades and continues to blatantly violate human rights, alter the demographic profile of the occupied territories and to claim permanent presence of Turkish troops in Cyprus, he continued, adding that at the same time Turkey mocks the international law's principles, the main feature of which is the protection of the rights of all citizens. Finally, it shuts down every opportunity of discussion through illegal actions at sea and schemes against Famagusta. Miss Anastasiadou then expressed hope and conviction that the dead-end would be escaped and that "we will again be on the road to reunification, in a free Cyprus, free from the bonds of occupation, as envisioned by those who were sacrificed for it"./ibna