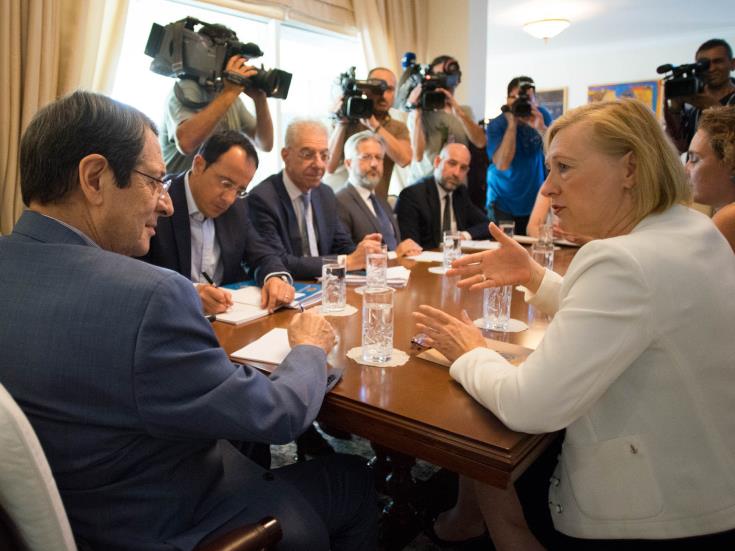 New wave of mobility in Cyprus
Michalis Michael
The Special Representative of the UN Secretary General in Cyprus, Elizabeth Spehar, held a meeting today with the President of the Republic of Cyprus, Nicos Anastasiades. Spehar will also meet with Mustafa Akinci. The meeting with the Cypriot President was held at his home in Limassol, where he is recovering, and was also attended by Foreign Minister Nikos Christodoulides and the Government Spokesman Prodromos Prodromou and lasted about an hour.
"I met with the President and I saw that he is well. It was a constructive meeting. In the afternoon I will meet with Mr. Akinci," said Spehar, in a short statement.
In statements after the meeting, government spokesman Prodromos Prodromou said that President Anastasiades and Ms. Spehar met in relation to the forthcoming report that is being submitted by the Secretary General to the Security Council regarding the peacekeeping force, whose draft is being given today to the permanent members of the Security Council.
"The President referred to the actions of Turkey in our region, the violations that are occurring in the sea, in the territorial waters, in the EEZ of the Republic of Cyprus, actions which are surely hampering the process of resolving the Cyprus problem," Prodromou said.
At the same time, it became known that UN Secretary General's special envoy Jane Holl Lute is preparing for a new round of contacts with the guarantor powers. She has already had talks in Britain, and is expected to visit Ankara, Athens and Nicosia in the following period. This fact "shows" that there is a new wave of mobility regarding the Cyprus problem, but Turkey's behaviour in the EEZ remains a major obstacle. The messages from there have not changed, on the contrary, despite the announcement of the sanctions EU intends to take, Ankara argues that "Yavuz" will continue its drilling off Karpasia./ibna