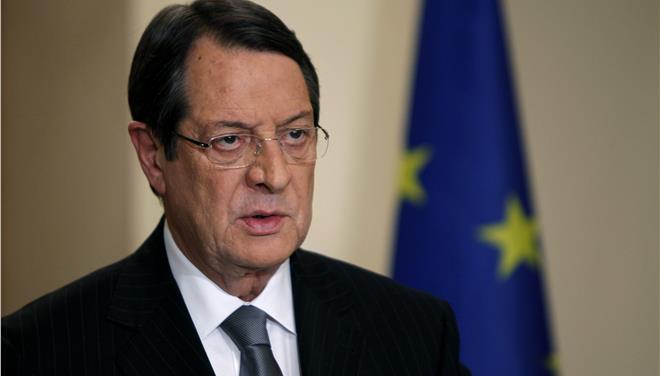 Review Haris Stefanatos
President of the Republic of Cyprus Nikos Anastasiades announced a series of meetings with government and other officials for today, so that the best possible solution can be found in the issue of mortgage property divestitures.
Anastasiades assured the public that the goal of the government is to protect the vulnerable groups from dangers that may result from the necessary change that must be done, but which must have barriers and boundaries.
"Our goal is to support the efforts and to preserve the sacrifices, which have yielded results, to avoid any unpleasantries", Anastasiades said. For the achievement of the right balance on the issue of the sale of real estate, which is a precondition in the memorandum for the release of the next loan tranche of EUR 436 million from Eurogroup, spoke the International Monetary Fund.
Anastasiades will start his contacts by meeting the ministers of Finance, and Interior, in the presidential country residence in Troodos. The meeting will be attended by Secretary to the President and the Government Spokesperson.
"The agreement reached is painful but under the circumstances the best we could make, said Secretary General of AKEL, Andros Kyprianou. The risk of bankruptcy of Cyprus and prevent tragic consequences for the economy and society is finally behind us. The banking system will stabilize. We managed to prevent the bankruptcy of the People's Bank and what that would have caused. We ensured the full capitalization of the Bank of Cyprus. With the merger of Bank of Cyprus with the healthy part of the People's Bank we created a strong bank, capable of serving the needs of depositors and the national economy", Kyprianou continued.
We must find solutions. That is our goal; that is what we want to do. That is why we strive to reach an agreement for a common bill for protection of the main residence and the small professional roofs. That is why we tabled a bill to regulate unfair charges by banks. But we continue to say that these are not enough. And we should be clear. As long as opposite us is a Government committed to the implementation of austerity and the sale of public wealth, the prospects for Cyprus and its people are not favorable, concluded the Secretary of AKEL.