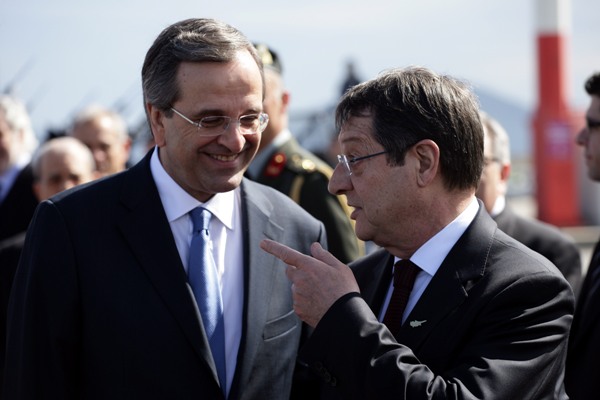 By Spiros Sideris – Athens
The Cyprus matter has been the focus of the meeting between Prime Minister Antonis Samaras and Cypriot President Nikos Anastasiadis.
Samaras, after the update he received from Anastasiades said that there is no significant approach between the two sides, but rather a confirmation of the diametrically opposite views concerning, among other things, the acquis or CBMs.
"The talks are continuing, but the solution requires the other side to show willingness, Turkey to comply with international law and with the recent decision of the court of human rights", the Greek Prime Minister said.
"Regardless of the other side's stance, it is not going to bend our common goal of ending the illegal military occupation and finding a functional, equitable, sustainable, mutually acceptable solution, in accordance with the UN guidliness" continued the Prime Minister, assuring that Greece will continue to support the Republic of Cyprus' efforts to resolve the Cyprus matters.
"We are together", he said.
On his part, the Cypriot President thanked Greece for its support and referred to the refusal of the Turkish side to respond to what has been committed.
"Together with the Greek government we have decided that the option of dialogue is more appropriate", Anastasiades said, noting the presence of Greece and Cyprus to the EU and the exploitation of the European dimension of the Cyprus matter.
"Our continued understanding and steady course of action in our strategies, upset the Turkish plans", he added.
The Cyprus President will meet tomorrow, Tuesday, in Parliament with the leaders of the opposition parties Alexis Tsipras, Panos Kamenos, Dimitris Koutsoubas and Fotis Kouvelis.
Deviation in 30 points
The positions of the Greek Cypriot and the Turkish Cypriot sides deviate in at least 30 points, as was revealed in the latest meeting between Nikos Anastasiades and Dervis Eroglu.
The Turkish Cypriot leader Dervis Eroglu argues publicly that he accepts the convergences that were achieved in the Christofias-Talat talks and were recorded in the known Downer document.
The government spokesperson Nikos Christodoulides, speaking to the Turkish Cypriot newspaper "Havadis" was very revealing and showed the discrepancies between the declarations and acts of Eroglu.
Christodoulides explained that the President of Cyprus, Nikos Anastasiades, welcomed the fact that both sides have filed proposals on all important issues, despite the fact that he may not be happy with the content of all proposals.