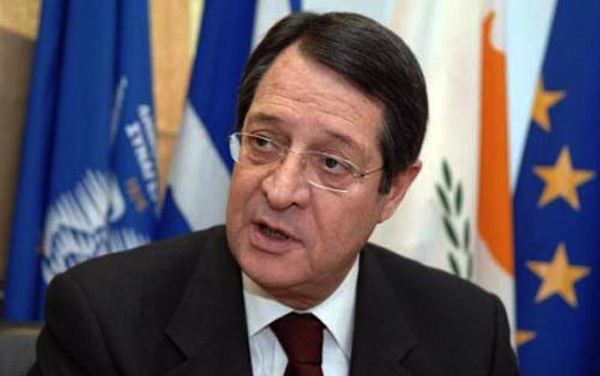 By Spiros Sideris – Athens
The President of the Republic of Cyprus, Nikos Anastasiades, made a public intervention regarding the confrontation between the DISY MEP, Eleni Theocharous and the Deputy Prime Minister and Foreign Minister of the greek government, Evangelos Venizelos.
In a speech today, Anastasiades after assuring that the "partnerships that are developing with third powers and much more with the motherland are impeccable and excellent", made ​​another appeal by sending his own message: "let us avoid the temptations that can infect the traditional support given by Greece".
Earlier, DISY MEP Eleni Theocharous had blamed the Prime Minister of Greece, Antonis Samaras, for his stance at the criticism of the Greek Deputy Prime Minister and Minister of Foreign Affairs, Evangelos Venizelos, against her.
Theocharous spoke on the main news broadcast of the TV station 'Sigma', where she was invited to comment on the statement made by Venizelos, whereby, the Greek FM calls her irresponsible and speaks of supposedly patriotic "circles" that take advantage of national sensitivities, and argued that the Greek prime minister, Antonis Samaras, should have removed him from office for making these statements.
Theocharous, also called the statement made by Venizelos "immoral and aimless", stressing that the greek government should have returned Turkey's text that was lodged during the EU Greek Presidency, which characterizes the Republic of Cyprus, as "dead".