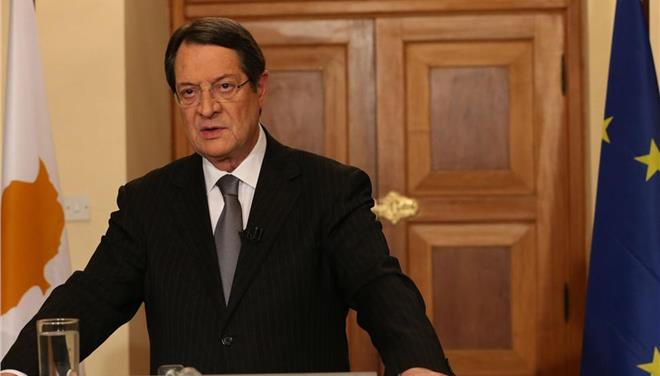 Nicosia, October 7, 2016/Independent Balkan News Agency
By Hari Stefanatos
There is no case for an interim agreement (to the Cyprus problem), the President of the Republic, Mr Nicos Anastasiades, reiterated today.
In his remarks to reporters, following his return to the Presidential Palace from the site of the talks on the Cyprus problem, the President of the Republic said that, today, he and Mr Mustafa Akıncı, the leader of the Turkish Cypriot community, discussed issues concerning competencies of the central government, of the constituent states, but also the responsibility that the state will have toward international obligations, so that there will be an oversight for the implementation of the obligations of the federal Republic of Cyprus.
Anastasiades stressed that "there is convergence on most of the competencies of the central government", adding that even though "there are some outstanding differences about three or four issues, the distance is not great, as also in the case of the state responsibilities of the central state, so that there will be an adequate oversight of the implementation of our obligations as a state".
According to the President, some thoughts and concerns were submitted, "which allow, I believe, through further deliberation that was assigned to the interlocutors, to lead us toward convergences eventually".
Asked whether the rotating presidency will be discussed in October, the President responded positively.
In response to another question, President Anastasiades said that "there is no chance for an interim solution. What will be presented to the people of Cyprus will be a comprehensive proposal with a constitution, with the constitution of the federal government, with the constitutions of the federated states, with the agreement which will be depicting the convergences, but also with everything that will constitute annexes".
"Let me make it clear: the people will be presented with a complete agreement which will not omit anything from all that constitute the component parts of the solution", Anastasiades concluded.