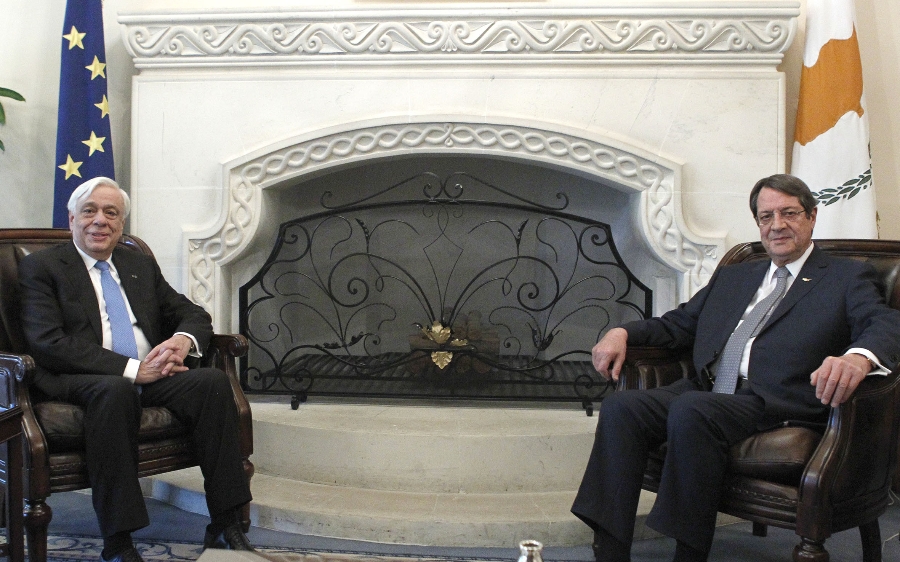 The President of Cyprus Nicos Anastasiades, met today with the President of the Hellenic Republic Prokopis Pavlopoulos, at the Presidential Palace, in Nicosia.
In his welcoming remarks, at the meeting, President Anastasiades said, among other things, that "our common pursuit is to at last achieve a solution (to the Cyprus problem) that will be fully compatible with the European acquis; which will not reduce the sovereignty of an EU member state while, at the same time, it will safeguard human rights without the need for us to have any third country as a guarantor, or for military forces from any third country to remain, allegedly, for the protection of the one or the other community.
On this course, we (Greece and Cyprus) are together, in total agreement and in full consultation; and I hope that the other side will at last realize that it is not through the rhetoric of unacceptable positions that a mutually acceptable compromise is achieved on all that concern us, such as issues of internal security or external threats."
On his part, President Pavlopoulos said, among other things, that "never in the past have Cyprus and Greece been so united," stressing that there is an "excellent climate" between the two countries.
He added that "by defending the sovereignty of Cyprus in the process of the resolution of the Cyprus problem, we are defending the sovereignty of the EU member states."
He further noted that Turkey and the Turkish Cypriots must tell us if they want a solution; and if they do, then a solution "cannot but be on the following basis: that neither occupation troops nor guarantees can exist. All these (troops and guarantees) are entirely anachronistic and unacceptable by the EU because they create dangerous precedents as we all know."./IBNA
Photo: pio.gov.cy