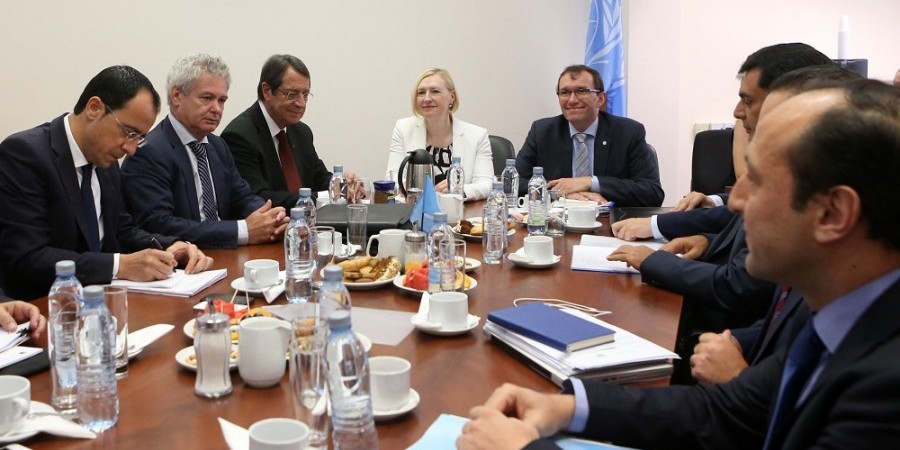 Nicosia, July 13, 2016/ Independent Balkan News Agency
By Haris Stefanatos
President Nicos Anastasiades appeared optimistic on Tuesday about a positive conclusion in economic issues and matters relating to the EU in the ongoing negotiations to solve the Cyprus problem.
Speaking on his return to the Presidential Palace after today's meeting with the Turkish Cypriot leader Mustafa Akinci, President Anastasiades said that a constructive discussion took place on both issues.
"There is a wider understanding that there must be absolute convergences and towards this end we have given instructions to the Technical Committees dealing with this issue to proceed further with the discussion", he said and noted: "There is wide understanding but we have to reach concrete results so that we get to convergences. I wouldn`t say that I am not optimistic that we can agree".
Replying to a question, President Anastasiades said that there are some issues on which there are convergences and some others in which differences still remain. "But I see an intention on both sides to make efforts to eliminate any divergences in order to reach convergences," he said.
Asked if any indications from the IMF and the World Bank surveys on the cost of a solution were on today's agenda, President Anastasiades said no, noting that there is no final assessment so far from these organisations.
Invited to comment on the UN Secretary General's reports, and specifically reference to a missed opportunity for cooperation in fighting a huge fire last month, President Anastasiades recalled the representations Nicosia has made on the matter.
The President called for patience until the final report of the UN Secretary General is out.
"I hope that the final report will record the events the way it should," the President on Sunday, when he was invited to comment on Ban Ki-Moon's reference, in his report on the UN peace-keeping force in Cyprus, to a missed opportunity when commenting on the battle against a huge fire in the Troodos mountains, last month.
In the report, Ban notes that President Anstasiades essentially turned down an offer by the leader of the Turkish Cypriot community Mustafa Akinci and another offer from Turkey to send fire-fighting aircraft and other assistance to fight the fire. The President thanked Akinci and explained that there was no further need for additional help (Cyprus had secured assistance from Israel and European countries). The President also explained to Ankara that any Turkish aircraft would have to land at the Republic's airports and join the fire-fighting efforts under the competent authorities of the Republic of Cyprus, as all other aircraft from overseas had done. Ankara, which does not recognise the Republic of Cyprus, refused to comply with this, saying it can operate on its own terms.
Source: CNA