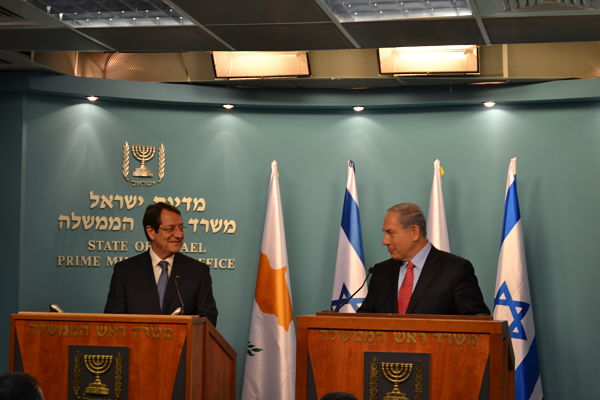 Nicosia, July 28, 2015/ Independent Balkan News Agency
By Hari Stefanatos
The excellent climate in relations Nicosia-Tel Aviv confirmed in their statements after their talks in the Cypriot capital, the president of Cyprus Nicos Anastasiades and the Israeli prime minister Benjamin Netanyahu. During the talks the two leaders focused on three main areas of cooperation between the two countries: energy, economy and safety.
The cooperation of the Republic of Cyprus and Israel becomes more important, "due to the very fluid situation in the region", said the Cypriot president and reported that he told Netanyahu about the latest developments in the Cyprus problem and for Cyprus reunification efforts to a bizonal, bicommunal federation based on UN resolutions and the principles and values ​​of the European Union.
Nicos Anastasiades noted that he and Netanyahu agreed that "the discovery and exploitation of hydrocarbons is a sovereign right and can be part of a mutually beneficial cooperation". It was discussed, he said, ways of strengthening cooperation between the two countries in the fields of energy, defence and security.
The Cypriot president said that he briefed the prime minister of Israel on the talks with president of the European Council Donald Tusk and the High Representative of the Union for Foreign Policy and Security Issues Federica Mogherini, in relation to the initiative of inviting Netanyahu and Mahmoud Abbas in one of the subsequent European Councils.
Referring to the cooperation between Greece – Cyprus and Israel, Nicos Anastasiades briefed Netanyahu on the conversation he had yesterday with Alexis Tsipras, noting that the Greek prime minister expressed readiness to further strengthen the trilateral cooperation.
In his statement, the prime minister of Israel pointed out that the visit to Cyprus is the first to perform abroad after his re-election. Through cooperation, he said, we can make the future better for Cyprus and Israel. "We are blessed by God", he said, "not only in heaven but also under the sea".
Especially for energy issues, the prime minister of Israel pointed out that the two countries can mine and exploit gas. The action, he said, "is the first step of cooperation with the next step being the economy" and noted that in the coming time there should be a two-way increase in tourism and investment.
Netanyahu made particular reference to the issue of security and the fight against terrorism, stressing that "Israel is committed to fight against these threats".
Cyprus and Israel, he said, wish peace and security and thanked the Cypriot president's initiative to invite both he and the President of the Palestinian Authority to speak to the European Council.