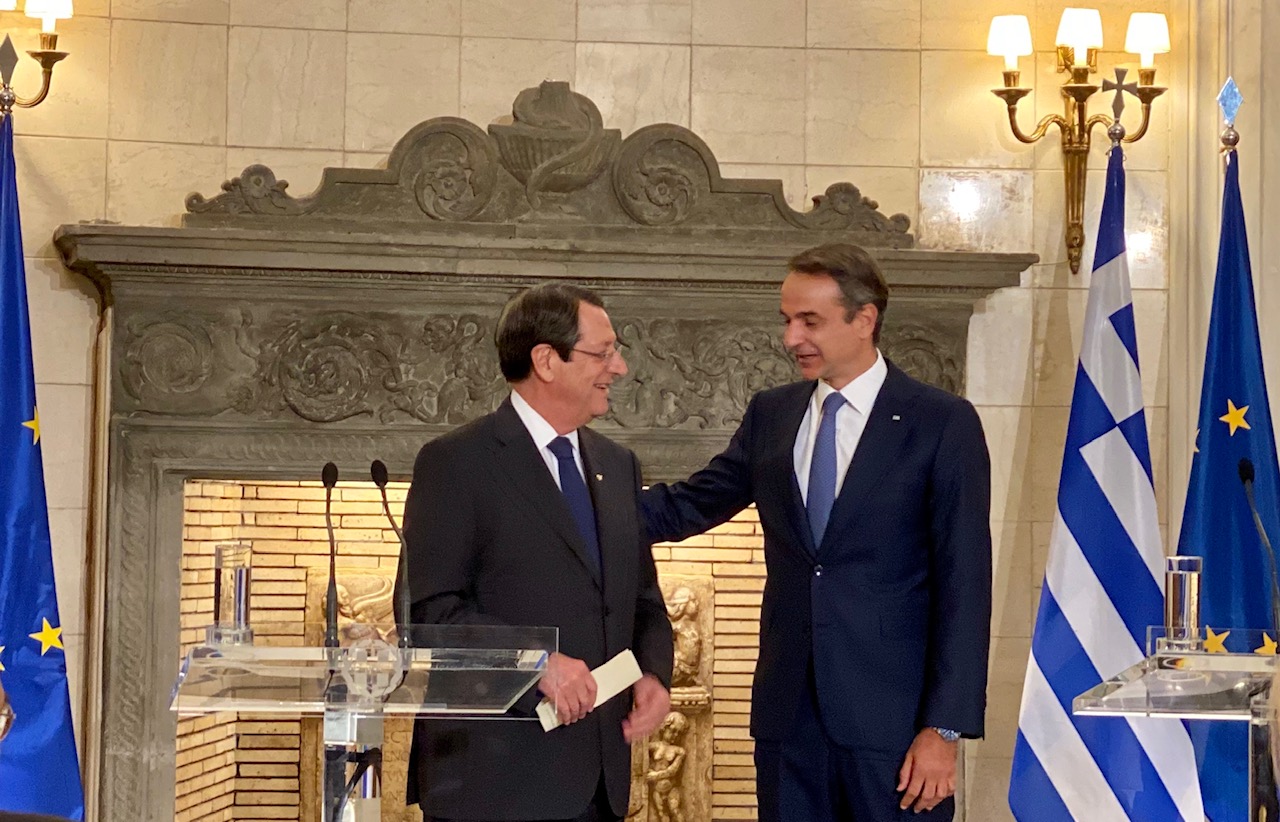 The President of the Republic of Cyprus Nicos Anastasiades and the Prime Minister of Greece Kyriakos Mitsotakis, who met at noon today, at the Maximos Mansion in Athens, highlighted the excellent coordination of the Governments of Greece and Cyprus and their joint determination to confront the aggression of Turkey through a substantial EU intervention.
After the one-on-one meeting, followed by the extended talks between the delegations of the two Governments, the President of Cyprus, in a statement to reporters, said that among the issues discussed today was the Multiannual Financial Framework, noting that "their positions coincide with a majority of European countries and so a coordination had to be made knowing the margins within which we must move in order to deal with the economic crisis and the problems that have arisen as a result of the pandemic.
The second issue that preoccupied us, and in which there is also a complete coincidence of views, was addressing the challenges as a result of the violation of international law, European principles and values, by a country that is still a candidate for membership.
What our two countries are looking for is dialogue, peace and stability in the region. We are not the ones who provoke anyone. On the contrary, we are being provoked through illegal actions and not just Greece and Cyprus, but Europe as well.
For what I want to assure and express my satisfaction especially is the excellent coordination of the two Governments, the joint determination to face this aggression not through a corresponding provocation, but through the pursuit of a meaningful dialogue, a meaningful intervention of the EU in essence, which will create the conditions for a meaningful dialogue that will lead to peace, stability and respect for international law and European principles and values. These are the beliefs of Europe, the beliefs of Greece and the Republic of Cyprus and we are moving in this direction.
And I'm glad to say that the conclusions from the talks are common.
We will not allow to prevail what Turkey is seeking, that is, to succumb to the provocation and create an unnecessary crisis. What we will do together is see how the EU can be activated more effectively together. In particular, we will rely on the sensitivities of European partners, not only in breaches of international law and European principles and values, but also in what no one expected from a secular state to do, the conversion of Hagia Sophia into a Mosque.
Hagia Sophia belongs to the orthodox, universal, protesting people around the world who respect cultural heritage, because Hagia Sophia is an acquisition, a cultural heritage that does not distinguish a religious identity, but is a symbol of a 6th century masterpiece. Therefore, we will act together with the civilized people everywhere to send a strong message that it is unthinkable in modern times to scorn cultural heritage with such immodesty.
I feel the need to express the gratitude of the Cypriot Hellenism for its long-standing support for the rights and freedoms of the Republic of Cyprus that cover not only the Greek Cypriots, but also my Turkish Cypriot compatriots.
Thank you very much for the hospitality and I wish the best for both Greece and Cyprus ".
For his part, the Prime Minister of Greece said: "Mr. President, dear Nicos, I welcomed you today in an atmosphere of friendship and cooperation, as always. Shortly before the crucial European Council, as you know the key issue on its agenda is the European Recovery Fund.
The new financial mechanism, that is, which will allow the economies of the Member States, but also of Europe as a whole, to face the consequences of the pandemic, something that is of absolute interest to our two countries, which are particularly affected, especially by the recession in the critical tourism sector. In this matter, I must tell you that our positions are completely aligned, but they also coincide with the positions of the vast majority of our partners.
We insist on the full amount of aid proposed by the European Commission. We argue that their central body should be grants and not lending and of course we insist that no additional special conditions should be met for their disposal. The current framework of the European Union, after all, is already operational and, where necessary, quite strict.
This is a bet of Europe, which is a fundamental principle. That of solidarity and balanced development. But it is also a challenge about how our European family reacts to the issues of the times. And as I personally explained to the President of the Council, Mr Charles Michel, with whom I contacted again by telephone yesterday, after the end of the Summit we must not return to our homelands without a mutually acceptable solution.
Markets have already welcomed the bold European reaction, at least as suggested by the European Commission. They are waiting for its implementation. Therefore, we all have to move fast. The Commission proposal is promising. It is complex. It presupposes fruitful compromises. I'm sure they will take place, as a second wave of coronavirus is always lurking and the recovery Fund procedures must not only be efficient, but must be very fast.
President Anastasiades and myself also gave an overview of the overall developments in our wider region, which, unfortunately, are still charged by Ankara's aggressive stance. Its rhetoric, but also its actions, unfortunately, insist on moving outside the framework of International Law, challenging all neighboring countries. They openly violate the sovereign rights of the Republic of Cyprus, but also of Greece. They are totally directed, I would say, against Europe, not just against our two states. The provocations are numerous and common and are not addressed only to our two countries, they are addressed to Europe as a whole, as they are launched by a country that is formally a candidate for membership in the European Union. So they need a comprehensive European response.
Greece and Cyprus, therefore, are coordinating, as we have always done and will continue to do so. And we declare that the questioning of our sovereign rights and international legitimacy signals the time for stronger reactions.
United and determined, Europe must now draw up a specific list of actions and sanctions against a country that has taken up the role of the local troublemaker, but is also becoming a threat to stability throughout the southeastern Mediterranean region.
Greece and Cyprus, and I must emphasize this, have never refused a dialogue in good faith. A dialogue, however, which will always be based on the principles of International Law, the principles of good neighborliness and, above all, the principles of respect for the sovereign rights of each country. No extortionate practices and lurking threats of violence.
My friend Nicos and I also discussed President Erdogan's unprecedented decision on the character of Hagia Sophia. A decision that certainly hurts us as Greek Orthodox Christians, but also hurts us as citizens of the world. This issue is not a Greek-Turkish issue, it is not even a Euro-Turkish issue, it is global. It is a universal issue.
With this setback, Turkey chooses to sever ties with the Western world and its values. It abandons a cultural acquis of many centuries, preferring introversion. And it wraps with an artificial mantle of power an energy of substantial weakness. Because resorting to such actions and using such issues for internal maneuvers can only be taken as a weakness.
Throughout its course, after all, Hagia Sophia, this masterpiece, followed an ecumenical trajectory. There was an orthodox church, a catholic church as well as a mosque. Eventually, however, it became a world monument, something that does not change. That is why even those who desecrate, are forced to call it with its Byzantine name: Hagia Sophia. Because history teaches that the heritage of the world can not become a tug-of-war between states and that monuments ultimately are not humiliated, but humiliate those who do not respect them.
Hagia Sophia is greater than all and surpasses them all, surpasses us all. It will, therefore, stand firm in its place, maintaining the radiation it emits from the 6th century, always having its historical and artistic load intact. With a scope that extends over countries and religions and with dimensions much larger than those of an administrative decision.
After this insult addressed to her, of course, the question arises whether Hagia Sophia will now be able to maintain the special privileges of the UNESCO world cultural monument. And if of course it is fair for UNESCO to continue to donate its enormous glamor, but also what it entails, to the country that is supposed to host it.
Against this unnecessary, small-minded initiative of Turkey, Greece is studying its reaction at all levels. In any case, this symbol of peaceful coexistence, religious tolerance and culture can not be held captive by political manipulation, nor can it be ultimately imprisoned at the small limits of conjuncture. Hagia Sophia, after all, has for centuries warned every pilgrim or visitor with the saying inscribed on its facade: 'Νίψον ανομήματα μη μόναν όψιν'. That is, to also wash your misdeeds not just your face".
Following the statements, the two leaders and members of their delegations attended a working lunch.
The Cypriot delegation was attended by the Minister of Foreign Affairs Nikos Christodoulides, the Government Spokesman Kyriakos Kousios, the Ambassador of the Republic Kyriakos Kenevezos and the Director of the Diplomatic Office of the President of the Republic Kyriakos Kouros/ibna