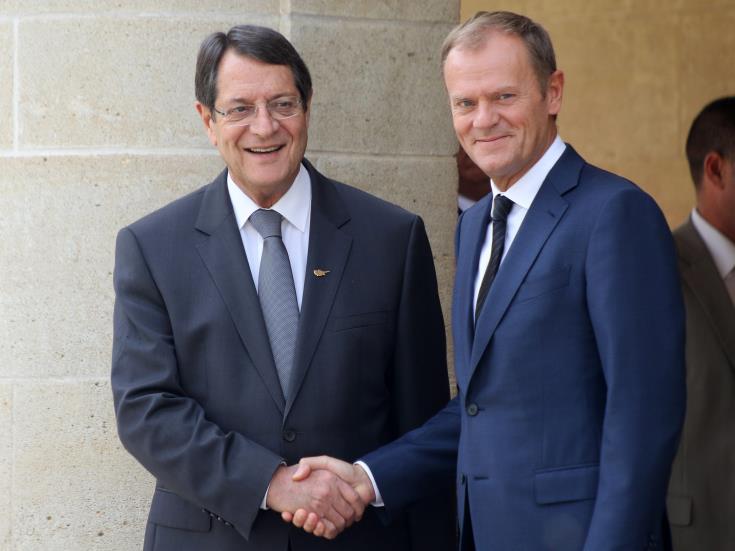 The President of the Republic of Cyprus Nicos Anastasiades met today, at the Presidential Palace, with the President of the European Council Donald Tusk.
Mr Tusk was welcomed in the morning by President Anastasiades and afterwards the two held a private meeting, followed by expanded talks between the delegations of the two sides.
Later on, the President of the Republic and the President of the European Council made remarks to the Media.
In his remarks, President Anastasiades stated the following:
"Mr. President, Dear Donald,
It is with great pleasure that I welcome you in Nicosia and have the opportunity for an in-depth discussion on all the challenging issues that concern us.  We have a demanding European Council ahead of us, therefore our meeting was indeed timely.
It has been an honour to work with you closely all these years, watching you skillfully navigating the European Family, which, as it happens with all families, had and continue to have several challenges to address.
Pursuing and achieving consensus among 28 is an extremely delicate task and you could always find the way to reach the right balance without compromising values, principles and mutual respect.
Today we had a very timely meeting in view of the Council meetings that will follow in the coming days in Luxembourg and Brussels. I know you have been closely following developments in Cyprus and as always, we have been in constant contact and coordination.
I had the opportunity to thoroughly brief you on the most recent developments in our maritime zones and Turkey's new illegal drilling operation within licensed plots in the Exclusive Economic Zone of the Republic of Cyprus, in clear violation of our sovereign rights and international law.
These actions constitute an unprecedented escalation of Turkey's illegal behaviour and the most severe provocation so far.
A few days before the coming European Council I wish to underline the importance we attach in having the whole Union standing united behind the Republic of Cyprus, as you recently publicly stated. I take this opportunity to thank you for immediate response through a strong message and the inclusion of the issue on the agenda of the European Council meeting.
We need to continue sending firm messages to Turkey that the EU stands by its values of democracy and rule of law; that all Member States stand together and show solidarity during the most challenging of times, safeguarding peace and stability within the Union and beyond.
I also had the opportunity to explain to Donald, that this new illegal drilling is part of a series of continued provocations by Turkey, namely in the buffer zone and the plans for a potential opening of the fenced area of Varosha under illegal Turkish military occupation.
In light of all these negative developments, we cannot remain idle. There is a need for a more concrete response to Turkey's continued illegal operations. Turkey needs to cease these provocations and stand aside from further escalation that might cause destabilization in an already turbulent region.
The recent Turkish military operation in Syria is another development of grave concern, and unfortunately another testament of the way Turkish leadership operates.
The Union has the tools to accept maximum pressures safeguarding its credibility at a period where well established principles of international law are at stake.
Having to get to know you personally throughout the years I am confident you too believe that legality ought to prevail over the rule of the jungle that the particular country wishes to impose in the Eastern Mediterranean.
These unlawful activities by Turkey are taking place, the worst of all. at an extremely critical juncture for the Cyprus issue, at a time when plans are underway for a tripartite meeting between the UN Secretary-General, the leader of the Turkish Cypriot community and myself, aiming at the resumption of the dialogue. Turkey's actions clearly undermine our sincere efforts to engage in meaningful negotiations.
Today we also had the opportunity to discuss in depth the issue of migration. We fully understand and share the concerns expressed and we support the President on all its efforts. After all, we ourselves are a country which receives the greatest number per capita of migrants in Europe, mainly from Turkey. For three years in a row Cyprus remains the top receiving Member State per capita. We stressed the need for tackling the issue in its roots. We need to focus on a comprehensive solution and not ad hoc and temporary reactions which will prove non effective at the end.
Dear Donald, you always speak so passionately about the European Union, the European project and the need to continue upholding its values and principles. Preserving our democracy and rule of law has always been your presidency's main priority.
Despite assuming office during the most challenging of times for Europe, your leadership and determination have earned the praise of all Member States, but most importantly the respect and appreciation from the European citizens.
In a few weeks your tenure comes to an end. I wish to sincerely congratulate you for skillfully navigating our European family through a number of unprecedented challenges. You have managed to keep us united against all odds, reminding us that our common European family is far too precious to be unprotected.
It would also be an omission on my behalf if I were not to extend our genuine appreciation for your principle stance, personal interest and strong support to reaching a comprehensive settlement on the Cyprus Problem, in accordance with the relevant UN Security Council Resolutions, international law and the EU acquis.
I remain deeply committed to continue my tireless efforts to end the unacceptable status quo and reunite Cyprus.
Our aim remains none other than to seek and achieve a viable and functional settlement that will allow all Cypriots, Greek and Turkish, to live in a normal and independent state, without any external interference, foreign guarantees and military troops.
Mr. President, Cyprus still counts on your full and unwavering support, as well your resolve and leadership to exhaust all the diplomatic means in order for the Turkish violations to be terminated.
In concluding and in thanking you once more for this important visit amidst the tensions we are dealing with, please rest assured that Cyprus is and will always remain a true friend to you, a true European. And that is a characteristic of great value in the times we lead."
On his part, President Tusk said, among other things, that "in the last five years as President of the European Council I have been here many times to try to find with you solutions to some of our common problems, and also to underline EU solidarity, solidarity for all its members, big or small. Today, is no exception."
He added that "I came here today is to demonstrate our full solidarity to you in the face of Turkey's continued drilling activities in the waters of the coast of Cyprus. The European Council has strongly condemned these illegal actions. And in light of the new drilling activities by Turkey since the end of last week. I reconfirmed that the EU stands united behind you. I call Turkey to end these activities as they do not only undermine the recent efforts to resume Cyprus settlement talks, but they also undermine good neighboring relations between the EU as a whole and Turkey."
President Tusk said that with President Anastasiades also discussed "the dramatic situation in Syria. Turkey's unilateral military operation in northern Syria is of grave concern and should stop."
He added that "the Kurdish forces that have been part of the Syrian democratic forces have been and are crucial in fighting Da'esh. For both sides of the Atlantic abandoning them is not only a bad idea, as President Tramp said, but raises many questions both of strategic and moral nature.
Turkey must understand that our main concern is that its actions may lead to another humanitarian catastrophe which should be unacceptable. Nor will we ever accept that refugees are weaponized and used to blackmail us. That is why I consider yesterday's threats made by President Erdogan totally out of place."
On Brexit, Mr Tusk said that "unfortunately, we are still in a situation in which the UK has not come forward with a workable, realistic proposal.
A week ago I told PM Johnson that if there was no such proposal by today, I would announce publicly that there are no more chances – because of objective reasons – for a deal during the incoming European Council.
However, yesterday when the Irish Taoiseach and the UK Prime Minister met they both saw – for the first time – a pathway to a deal. I have received promising signals from the Taoiseach that a deal is still possible. Technical talks are taking place in Brussels as we speak. Of course, there is no guarantee of success and the time is practically up. But even the slightest chance must be used. A no deal Brexit will never be the choice of the EU."/ibna