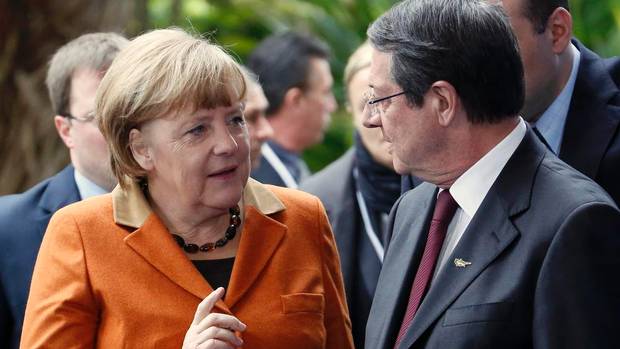 By Kyriacos Kyriacou-Nicosia
President of the Republic of Cyprus Nicos Anastasiades, who is participating in the European People`s Party (EPP) Congress for the European elections in Dublin,  is expected to meet today with German Chancellor Angela Merkel. According to government sources, the two will discuss economic progress in Cyprus and  the negotiations between the Greek and Turkish Cypriot sides to reach an agreement to unify the divided island. Anastasiades is also expected to speak at EPP Congress.
According to press report, the European People's Party manifesto acknowledges Cyprus as a "European pillar of stability in the region" and calls for a Cyprus solution, based on UN and EU principles. Furthermore, it calls on Turkey to withdraw its troops from the island and implement the Ankara Protocol, while underlining respect for the sovereign rights of EU members states' on their natural resources.
The manifesto, adopted Friday in the 22nd EPP Congress in Dublin, says that the recent developments in the Eastern Mediterranean, particularly in Syria and in Egypt, underline the importance of Cyprus as a European pillar of stability in the region.
Central role in EU's energy
In light of the important oil and gas discoveries in the eastern Mediterranean, it is added, Cyprus also plays a central role in bolstering EU`s energy security.
"These developments underline the need for a comprehensive settlement of the Cyprus question based on UN Security Council resolutions and on the principles on which the European Union is founded" the EPP manifesto says.
Turkey, it is noted, should take all necessary steps, including the withdrawal of troops, to avoid any kind of threat or action against a member state or source of friction or actions, which could damage good neighborly relations and the peaceful settlement of disputes.
In particular, the manifesto calls on Turkey to implement the Ankara protocol, hand over Famagusta to its lawful inhabitants, and respect the sovereign rights of EU Member States to explore and exploit their natural resources in accordance with international law, including the UN Convention on the Law of the Sea.
Right-wing "Democratic Rally" party, an EPP member, has welcomed the manifesto as a "very important political document".
Yesterday, before flying to Dublin, the President was in Brussels, where he took part in the European Council meeting that discussed the situation in Ukraine.