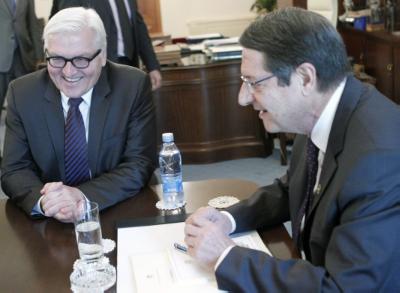 Nicosia, November 17, 2015/Independent Balkan News Agency 
President of the Republic of Cyprus Nicos Anastasiades and the German Foreign Minister Frank-Walter Steinmeier discussed on Tuesday during a meeting they held, the Cyprus issue, Turkey – EU relations, the recent events in Paris and the role of Cyprus in the region.
Government Spokesman Nicos Christodoulides told the Press after the meeting that President Anastasiades and the German FM had a long meeting during which they discussed Cyprus issue and EU-Turkey relations as well as regional issues and the recent events occurred in France
He said that during the terrorist attacks the German Foreign Minister was in Paris and particularly at the Stade de France watching a friendly soccer match between France and Germany.
The Government Spokesman went on to say that they have also discussed "the situation in the region, the Middle East and in particular the role Cyprus can play in addressing the problems of the region."
Asked whether they discussed a linkage between migration issue and the opening of negotiating chapters of Turkey`s EU accession process, Christodoulides recalled that "Merkel referred to Chapter 17 when she was in Turkey `. He also recalled that a meeting between President Anastasiades and Merkel had followed in Spain within the framework of the Summit of the European People`s Party, noting that "our positions are clear."
"Turkey`s accession process depends solely on Turkey," he said. There are, he added, "specific obligations, there is the negotiating framework, the decisions of the European Council which clearly determine how Turkey`s accession process can move forward".
Therefore, he concluded, "it is up to Turkey itself to take those actions which will enable its EU course to move forward".
Christodoulides was also asked about the forthcoming visit of British Foreign Secretary Philip Hammond and said that President Anastasiades will meet with Hammond on Thursday morning.
Cyprus has been divided since 1974, when Turkish troops invaded and occupied its northern third.
Source: CNA