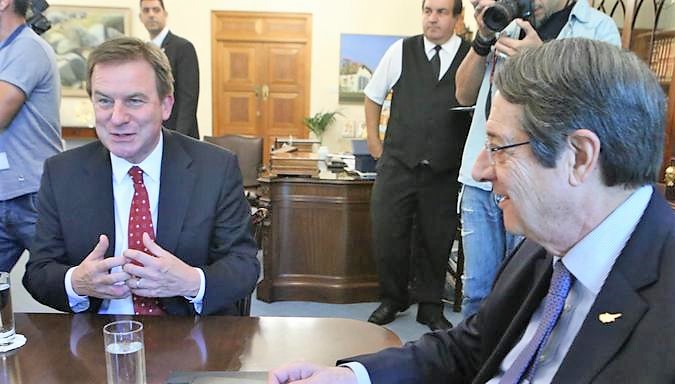 The President of the Republic of Cyprus, Nicos Anastasiades had a meeting with Exxon Mobil's Senior Vice President Neil Chapman. The two men discussed about the imminent drilling in plot 10, which, according to the Minister of Energy, is expected to start in the Q4 of 2018. The Cypriot president and Exxon Mobil's Chapman also talked about how the company sees ongoing developments in the energy sector at a global level.
Neil Chapman was asked whether Exxon Mobil is interested in plot 7, and he noted that "the company looks at all the prospects presented globally and judges (them) accordingly". Invited to comment on the fact that ExxonMobil is considering co-operating with TOTAL, Chapman did not exclude the possibility of a future business agreement, saying that, "we have not examined details of other plots at this stage. It's too early. We are working together with TOTAL just like with other companies. Though, right now we are concentrating exclusively on plot 10."
For his part, Mr. Chapman said, among other things, that he had a very constructive meeting with Nicos Anastasiades and added that he thanked the President for his confidence in the company with regard to plot 10. He noted that at the meeting the company's plans for the forthcoming drilling in the plot in question had been discussed, adding he had informed the President that, "our plan concerns a drilling in the fourth quarter, however, we do not have a precise date".
Invited to comment on Turkey's provocations in the Cypriot EEZ and how it affects the company, Neil Chapman noted: "we are a business entity, and our job is to produce and develop natural resources on the part of governments. Any issues (between) governments are up to the governments themselves to discuss and resolve."
Asked to answer a question as to whether he sees the region as an alternative way of transporting energy resources to Europe or elsewhere, he said that, "Energy is about the international market, people need hydrocarbons from many regions. What is important in the development of hydrocarbons is the resources, i.e. if the quantities are large, if they are competitive and marketable enough for the international market. It is too early to say. In our job, timetables are very important. First of all we need to see if there are hydrocarbons there (i.e. in plot 10). "
Last but not least, Chapman stressed that the process of extraction and disposal in the markets, if commercially competitive and viable quantities are found, is time-consuming  and could last even for seven years…. / IBNA