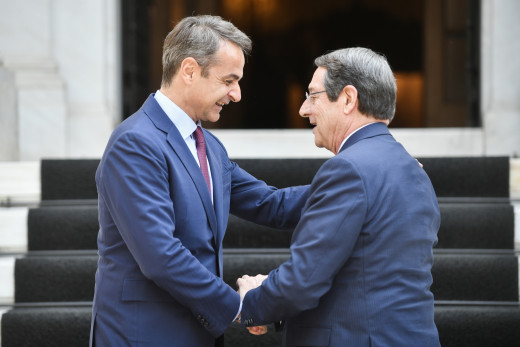 Cypriot President Nicos Anastasiades will be in Athens tomorrow morning, where he will take part in the proceedings of the 4th Euro-Arab Summit to be held on October 29 and 30 in the Greek capital, and will hold separate meetings with the Greek President and the Greek Prime Minister, as well as with the leader of the main opposition, regarding developments on the Cyprus issue.
On the afternoon of October 29, Nicos Anastasiades will address the Summit during its operations, which will focus on "Strategic Cooperation" and will take place at the Music Hall.
On the same day in the afternoon, the Cypriot President will meet with the main opposition leader, SYRIZA President Alexis Tsipras.
On the morning of October 30, the President of the Republic will meet with the Greek Prime Minister Kyriakos Mitsotakis at Maximos Mansion, and after that he will meet with the President of the Hellenic Republic Prokopis Pavlopoulos at the Presidential Palace.
On October 31, the Cypriot President will travel to Thessaloniki, where in the evening he will be awarded an honorary doctorate by the Aristotle University's Faculty of Law during a special ceremony. The event will take place at the city's Music Hall.
The next day, President Anastasiades will meet with members of the Cypriot community in Thessaloniki.
The President of Cyprus, accompanied by Government Spokesman Mr. Prodromos Prodromou and other officials, will return to Cyprus on the evening of November 1st. /ibna