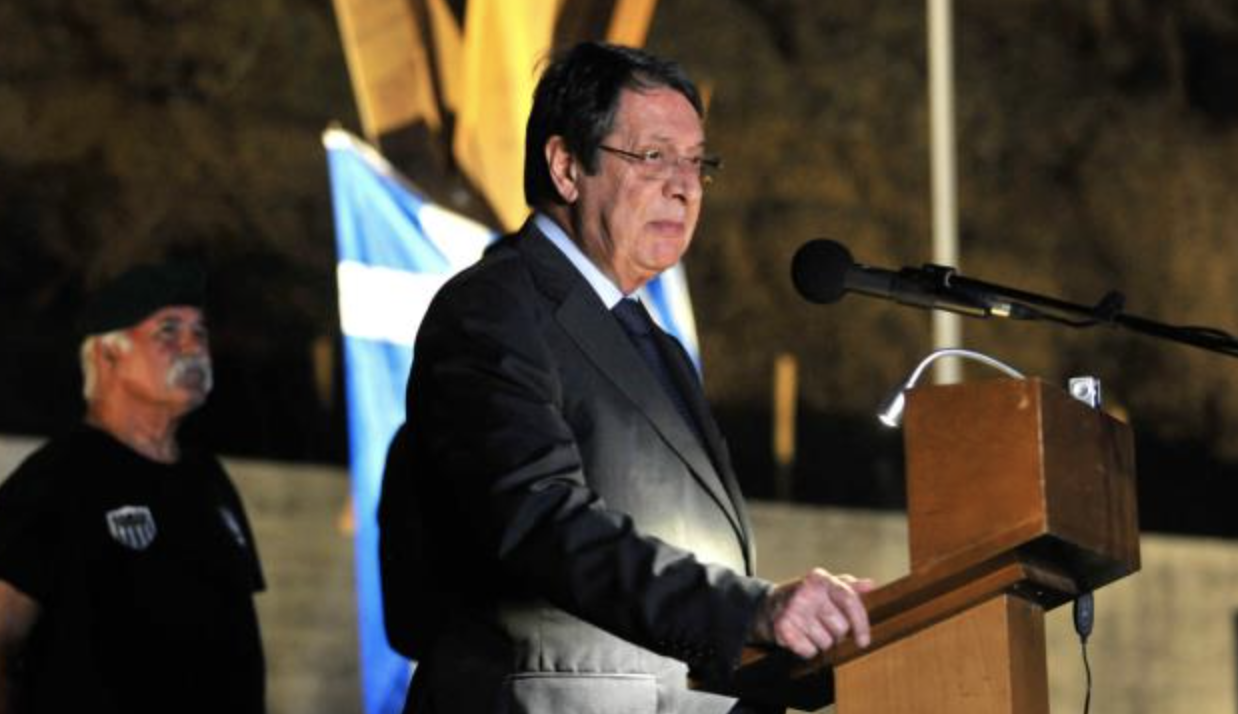 "I will not allow for as long as I am in power, or serving the people's mandate, to turn Cyprus into a protectorate of Turkey and I will fight with all my might," said the President of the Republic of Cyprus Nikos Anastasiadis on Tuesday night, indirectly responding to statements by Turkish Cypriot leader Ersin Tatar who reiterated his proposal for two separate independent states in Cyprus.
Nikos Anastasiades, said that he sent a message the Special Envoy of the UN Secretary General Jane Holl Lute who met on Tuesday morning, for the readiness of Cyprus for dialogue, but also the refusal to accept as a prerequisite the recognition of any sovereign equality claimed by the Turkey in order to resume the dialogue.
He continued by pointing out that "by putting our national issue as the highest of our priorities, we choose the path of peaceful dialogue, seeking to achieve a fair and lasting solution to the Cyprus problem that will bring peace and stability to Cyprus and the region."
In a meeting earlier Tuesday morning with UN Secretary-General's Special Envoy Jane Holl Lute, the President of the Republic of Cyprus reiterated his proposals for effective Confidence-Building Measures, as communicated to the UN Secretary-General in a letter sent to him by President of the Republic, as presented at the informal five-party conference in Geneva on 27-29 April. At the same time, he expressed his readiness, if the Secretary General deems it useful, for a joint meeting with the Turkish Cypriot leader.
Nikos Anastasiades will have a meeting next Friday with UN Secretary General Antonio Guterres on the sidelines of the Summit in Brussels, with whom he will discuss the whole spectrum of the Cyprus issue and will re-introduce the positions of the Greek Cypriot side to the UN Secretary General.
Turkish Cypriot leader Ersin Tatar said after his meeting with Jane Holl Lute that they evaluated the informal UN-led Cyprus conference held on April 27-29 and recalled that the Secretary-General had invited the parties to Geneva to learn their "new ideas".
"We continue to defend our state and we will continue to defend it. "We told Lute today that we maintain our position in Geneva (two separate independent states in Cyprus based on sovereign equality)."
"We will never transfer our dominance to the bazaar table, it is, after all, our acquired right. A negotiation process can begin based on sovereignty, with the cooperation of two states living side by side. "At this stage, we are ready for any informal meeting, I told Lute," concluded Turkish Cypriot leader Ersin Tatar./ibna