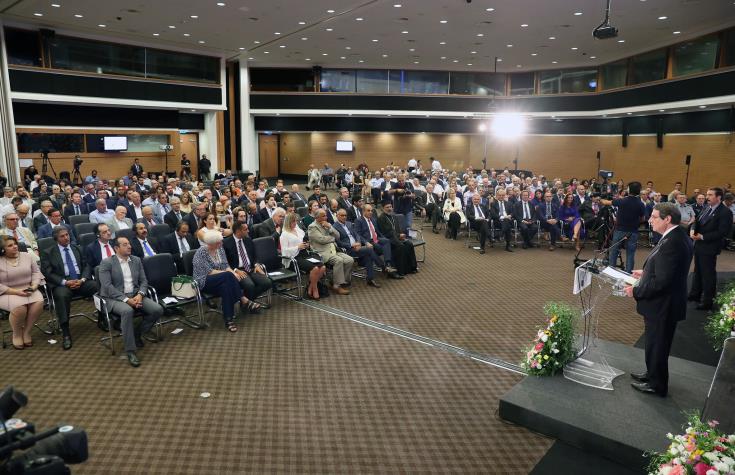 In the presence of the expatriates' organizations
By Michalis Michael
President Nicos Anastasiades reassured that he would not proceed to a solution for the Cyprus issue "that would guarantee nothing more than the insecurity of the Cypriot Hellenism", while adding that his effort was aimed at "providing for future generations".
With organizations of the expatriates present alongside foreign guests and ambassadors, as well as members of the Government and other officials, President Anastasiades announced tonight the commencement of the operations of the 20th World Congress of Cypriots of the Diaspora, of the World Federation of Cypriots (PSEKA) and of the World Youth Federation of Overseas Cypriots (NEPOMAK), at the "Philoxenia" Convention Center in Nicosia.
Addressing the audience, President Anastasiades said that "I would like to reassure you that the effort of a politician ready to step down is not to see his country run even more at risk, but to see how it safeguards future generations, to see how, when he gets out of the spotlight, he leaves behind a safe country that guarantees peaceful coexistence. Therefore, I have no reason to deny neither the debate nor, more importantly, the efforts that must be made in order to prevent the accomplishments that, unfortunately, are recorded every year at the expense of the Greek-Cypriot side. I am absolutely aware of this fact", he continued.
At the same time, he said that he would not accept a solution that would guarantee nothing more the insecurity of the Cypriot Hellenism, and for that, he added, unity was required and also "finally letting go of the various narratives that may serve us politically, but do not benefit us as a nation". We must finally become aware, President Anastasiades pointed out, that "it is not the Greek Cypriots who do not want and do not seek a solution, but it is rather the stance of a superior power, which through its policies, the vision of the new Ottoman Empire, proceeds to actions, operations, illegal activities that are not tolerated not only by Cypriots but by many different countries, even if their interests do not allow them to react as they should have reacted".
He also welcomed the fact that through the expatriates' mobilization the governments of the United Kingdom, the United States, France or other countries are also activated or sensitized. /ibna