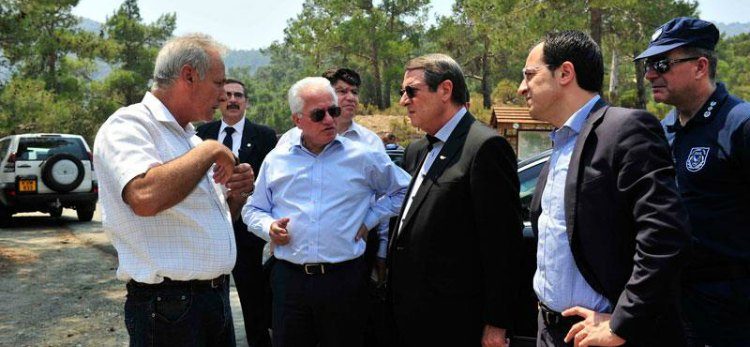 Nicosia, June 23, 2016/ Independent Balkan News Agency
CNA
Cyprus President Nicos Anastasiades has expressed his warmest gratitude to all those who battled with the blaze in the Solea region which resulted in a massive ecological disaster in one of the island`s richest forest areas.
In addition to the environmental destruction, two firemen lost their lives trying to put out the fire which was burning out of control since Sunday noon. The fire was put under control as of this morning.
In a written statement issued on Thursday, the President expresses his gratitude to all the firemen, the personnel of the Forestry Department, the Civil Defense, Nicosia District Administration, the Police, all public officials, the National Guard and all the volunteers who rushed to the region to join the concerted effort against the fire.
The President points out that all these people have shown courage and self-sacrifice and contributed to the huge efforts to save human life and protect the environment and residential areas.
The President also extends his warmest thanks to Israel, Greece, France, the UK, Italy and the EU who have deployed aircraft in order to extinguish the fire. He points out that their assistance was valuable in these crucial times. The President thanks Russia who stood ready and showed interest to support the fire-fighting efforts.