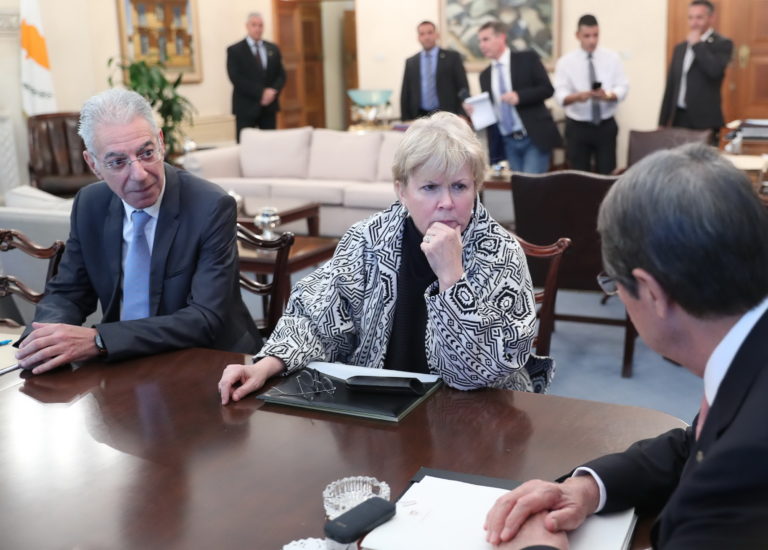 Continuation of talks on the Cyprus problem in serious doubt after the actions of Turkey
By Michalis Michael
The President of the Republic of Cyprus, Nicos Anastasiades, had a phone conversation with US diplomat Jane Lute, to whom he pointed out that the violation of the sovereign rights of the Republic of Cyprus in the Exclusive Economic Zone neither helps to create the right climate nor allows the resumption of dialogue.
This, basically, is how the diplomatic background of Nicosia views the events in the Cypriot issue in relation to those in the Cypriot EEZ. It is a fact that for the diplomatic background in Nicosia, the terms of reference and Mrs Lute's work on the matter have come to a standstill, from which it will be difficult to come out.
However, in Anastasiades-Lute contact, the latter told the President of the Republic that she remains determined on the basis of the mandate of the UN Secretary-General to work to create the right conditions for the resumption of dialogue.
Silence from Akinci
One of the key facts, which did not draw the attention of officials, is that all this time, and with Turkey having basically invaded in the Cypriot EEZ, Mustafa Akinci has not expressed any position on the matter. It would be unexpected for something like this to happen, as sources say, especially when the whole political scene in the occupied territories has been overthrown and they are heading for a new "government".
The whole situation, as it is being shaped, has cast its shadow on the Cyprus problem. "Unfortunately, with this behaviour from Turkey, the President of the Republic took care to reaffirm the readiness of the Greek-Cypriot side to engage in negotiations, which so far has not been made possible, both because of Turkey's obstruction on the pretext of the European elections and because of the reluctance of the Turkish Cypriot leader for any meeting with the President of the Republic", diplomatic sources state.
On the one hand, it is acknowledged that the terms of reference have been "frozen", on the other hand, UN Secretary-General Antonio Guterres has not recalled Mrs Lute, and so only at the level of hope can one claim that Mrs Lute's work will create the conditions for the reopening of a dialogue.
With regard to Britain
Britain's Minister of Europe Alan Duncan seems to be similarly annoyed by the Cypriot reactions, with his annoyance having become known and having reached even Nicosia. However, it in no way concerns the relevant sources with which we have spoken about the issue, and which suggest that he should be more careful about the sovereign rights of the Republic of Cyprus.
"The President of the Republic is expecting Britain to have a position in line with international law, in line with the UN Convention on the Law of the Sea and, of course, in line with the position the British Foreign Minister had, who was in agreement with the EU's general stance, as was announced by Commission Vice-President Mogherini", sources say./ibna