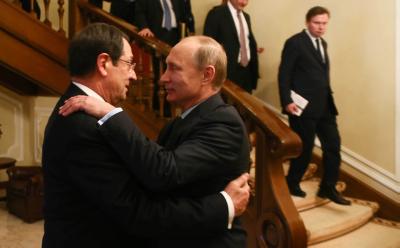 At a joint presser in Moscow not long before the departure of Cypriot president Nicos Anastasiades who was on an official visit to Russia, the President of the Russian Federation Vladimir Putin said that "it is important that a solution in Cyprus is achieved by Cypriots themselves, without foreign pressure", writes the CNA.
"Russia's principled stance on Cyprus is that a comprehensive and just solution should be achieved on the basis of the UN decisions and the agreements between the two sides", said Putin at the press conference.
The talks between the two presidents were described as "substantial" with special focus on bilateral and regional issues.
Cyprus was and remains one of Russians strong partners with the two leaders agreeing on strengthening the ties among them.
From his side, Anastasiades "thanked President Putin for the constructive dialogue and (…) said that they held a sincere and creative exchange of views on the Cyprus problem, the EU, bilateral issues and international and regional concerns."
Regarding the Cyprus issue, the president of the country underlined he is ready to "return to the negotiating table", noting how important the "contribution of the five permanent member states of the UN Security Council" is…/IBNA