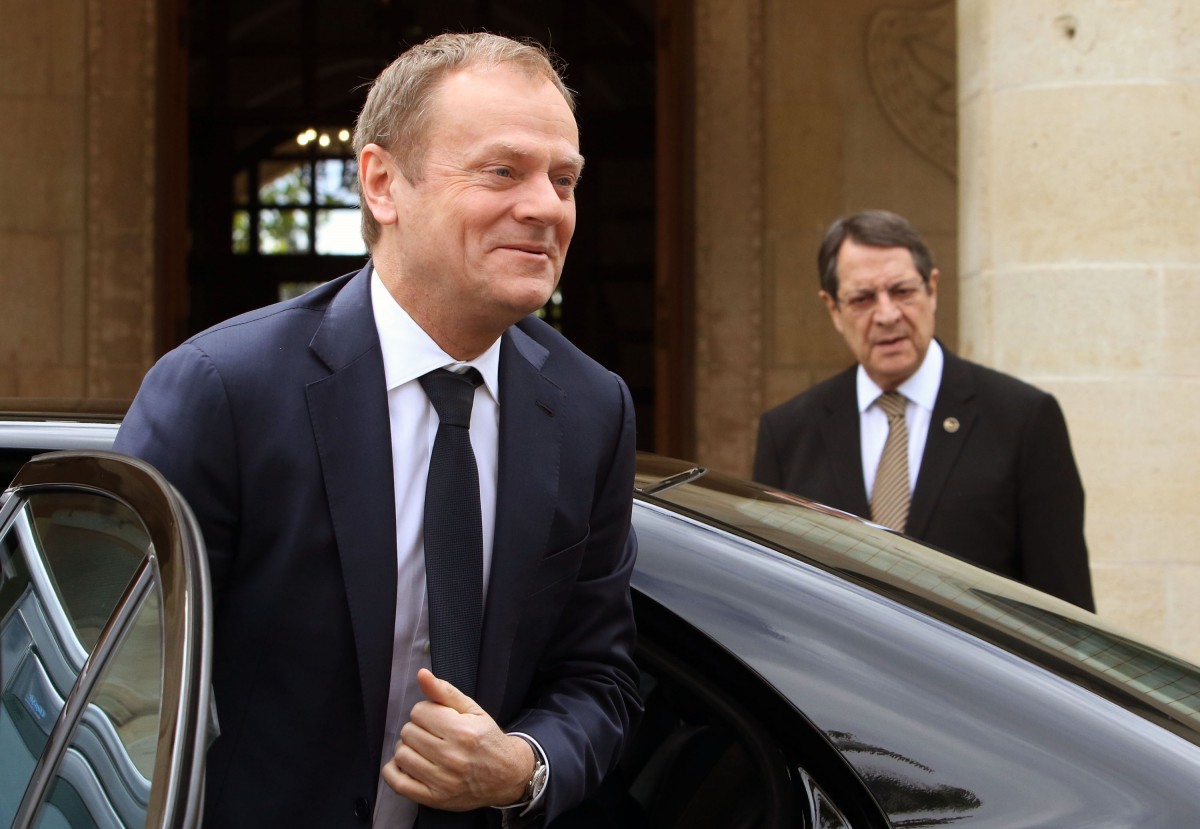 President Tusk reiterated that the EU stands in full solidarity with Cyprus
By Michalis Michael
The President of the European Council, Donald Tusk, met today (at 12:30 local time) in Brussels with the President of the Republic of Cyprus Nicos Anastasiades. According to President Tusk's post on Twitter, during their meeting Mr. Anastasiades briefed him on the developments regarding the drilling activities of Turkey.
According to the Cypriot Government Spokesperson, Prodromos Prodromou, President Anastasiades "briefed Donald Tusk on Turkey's continuous unlawful interference, and there was a coordination of a future discussion on the issue during the June session."
President Tusk reiterated that the EU stands in full solidarity with Cyprus. Both President Anastasiades and Mr Tusk will first go to the EPP pre-summit, before the informal dinner of the 28 Heads of State and Government at 18:00 local time.
What are the next steps
In the midst of a campaign, it was proven that the issue of the Turkish invasion in the Cypriot EEZ is one of the main issues that concern both the Cypriot society and the country's political scene, as was evident from the arguments that emerged.
From the Democratic Rally, the question was raised on where the country would be today if it was not a member of the EU, while the opposition emphasized that the government have not adequately secured the interests of the Republic of Cyprus.
At the forefront, Nicosia continues to keep a low profile, aiming to move forward with the actions being planned mainly in the background. The main issue concerns the lawsuits towards crew members of the ships that escort the Turkish drills. Diplomatic sources add it to the single set of ideas which are under consideration, but the information insists that the successful management of this issue will create a general positive effect for the Republic of Cyprus. At the same time, however, the Cypriot diplomacy also has a lot riding on the decisions the EU is expected to take next June at the next Summit.
This path, of cooperation with the EU, began with the Anastasiades-Tusk meeting, but also with all that was said by President of the US House Committee on Foreign Affairs, Mr. Engel, with members of the Cypriot government, when they met in Nicosia. As we had reported, the meeting took place a few days ago, and Nicosia has hope for the actions of the American influences in the region.
However, new reactions are being recorded in Cyprus, by AKEL. "The statements of the President of the US House Committee on Foreign Affairs, Mr. Engel, were very revealing about US intentions in our region, following yesterday's meeting with the President of the Republic. The US's goal in the region is to address the malicious machinations of Russia, as reported. He even connected the issue with the search for friends 'who share the same fundamental values with us', referring to Cyprus and Israel. For the Turkish operations in the Eastern Mediterranean, despite being questioned, he did not say a word. His silence is deafening. Mr Engel's statements come to amplify the questions that exist about what the Anastasiades-DISY government is discussing with the US. The government must finally give convincing answers." These are the statements that the AKEL spokesman Stefanos Stefanou made on Tuesday./ibna