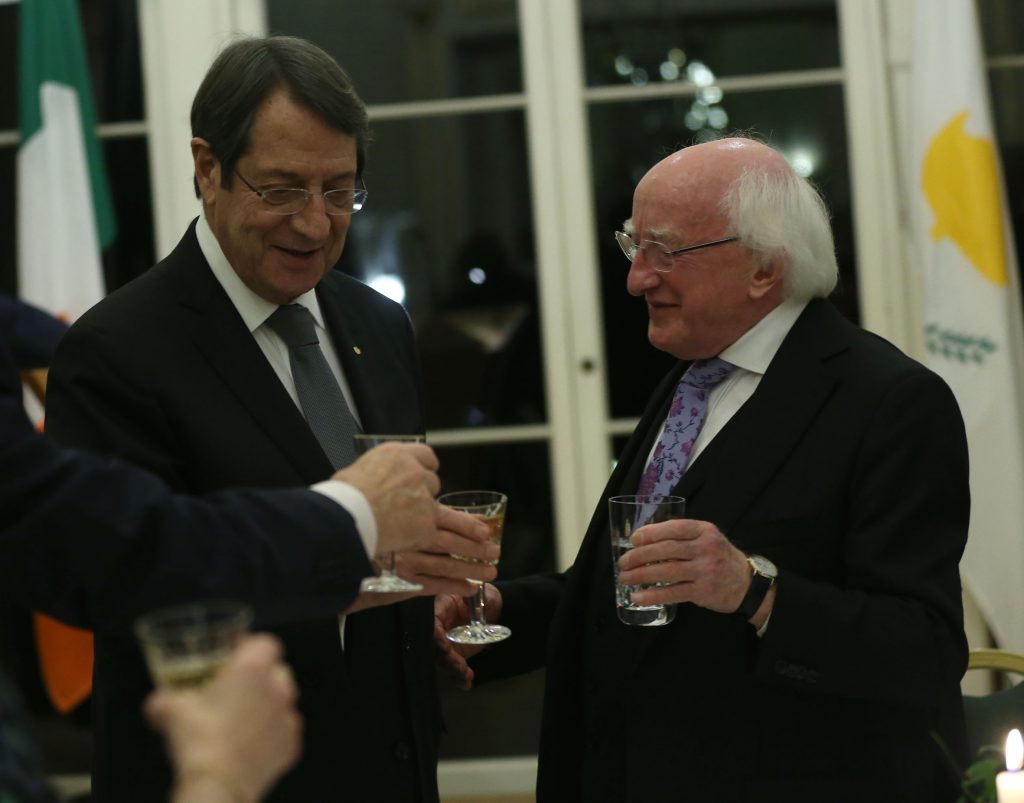 The President of the Republic, Mr Nicos Anastasiades, attended, yesterday evening, an official dinner hosted in his honor by the President of Ireland, Mr Michael D. Higgins, at the Presidential Palace, in Dublin.
Speaking at the dinner, the President of the Republic said, inter alia, that Cyprus and Ireland share many things in common, noting that the Irish presence and support in Cyprus, also through the UN Peace Keeping Force in Cyprus, are deeply appreciated. He pointed out that "this support has not been forgotten, and it will never be forgotten by any Cypriot, anywhere."
President Anastasiades added that "I am fully committed to working tirelessly and in good faith during the ongoing negotiation process towards the peaceful reunification of the island so that Cyprus can become an exemplary precedent of cooperation and co-existence worldwide. My aim remains simple and clear: to reach a viable, functional and comprehensive settlement, one that will amplify even further Cyprus' regional role. And which will contribute to the stability and prosperity of the region."
Referring to the President of Ireland, President Anastasiades praised President Higgins' enormous personal commitment to social justice and the eradication of poverty and discrimination in all its unwelcomed forms.
On his part the President of Ireland said, among other things, that "Ireland and Cyprus are two nations which know how important the wider European framework is for the resolution of their respective divisions."
He also expressed admiration for President Anastasiades' sustained efforts with regard to the ongoing negotiations to reach a peaceful, lasting and comprehensive settlement in Cyprus, adding that a lasting peace in Cyprus "will be a beacon of hope in the region and around the world."
Concluding, President Higgins praised the work carried out by the Committee on Missing Persons in Cyprus, and noted his country's participation in the UN Peace Keeping Force in Cyprus."/IBNA
Photo: www.pio.gov.cy