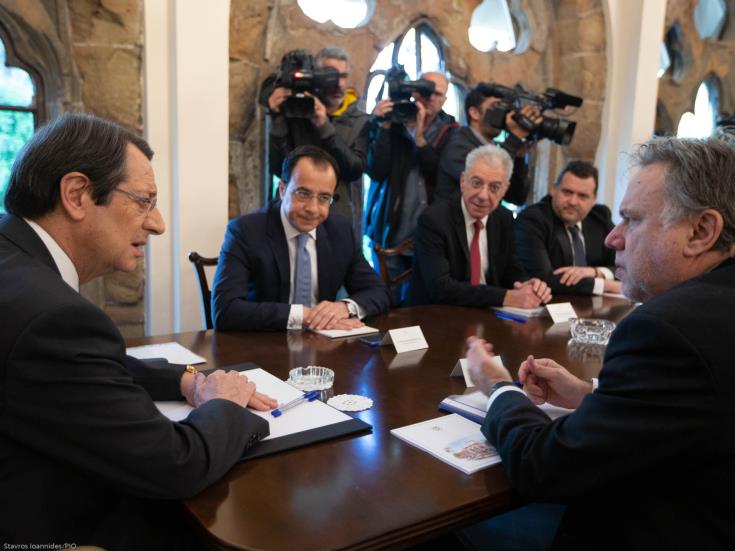 What messages will the Greek Foreign Minister convey to Cavusoglu
By Michalis Michael
The President of the Republic of Cyprus, Nicos Anastasiades, addressing the social networks after the meeting with Greek Foreign Minister George Katrougalos in the morning at the Cyprus Presidential Palace, spoke of a perfect coordination of the Cypriot and Greek Governments.
In particular, President Anastasiades Posted on twitter that he had a constructive meeting today with Giorgos Katrougalos on his first visit to Cyprus as Greek Foreign Minister. "Collaboration and complete co-ordination of our governments", he added. Katrougalos had a meeting with Cypriot Foreign Minister Nikos Christodoulides, and then went to the Cypriot Parliament and the Archbishopric.
The messages
From the visit of Katrougalos to Cyprus, the point that has everyone's attentio is that the Foreign Minister of Greece will have a meeting with his Turkish counterpart Mevlut Cavusoglu later this month. During their meeting, he is expected to send specific messages on security and guarantees, which constitute the external aspect of the Cyprus issue, from Nicosia to Ankara.
The aim is to demonstrate Turkey's attitude beyond the flexibility it is ready to show, which was also the basic argument of the Turkish side in Crans-Montana, without managing to convince Greece and Cyprus. After meeting with his Cypriot counterpart, the Greek FM stressed that the aim is to listen to the Turkish side and evaluate whether the current state of affairs in the Cyprus issue can change.
Nikos Christodoulides said in his turn that Nicosia and Athens want a targeted and meaningful negotiation that will lead to the abolition of the current status quo.
Our information, however, states that Cypriot diplomacy holds "a small basket" with regard to any potential concessions on the part of Turkey.
It is indicative that any developments are postponed for June, which cannot be ruled out to coincide with the decisions to renew UNFICYP, since Turkey claims that in the current period its priority is the municipal election, while Greece may also have elections.
Not even on the small things
However, the development that shows that the distance that divides the sides in Cyprus is great, concerns the fact of a friendly football match that was expected to take place in the mixed village of Pylas in the presence of Anastasiades and Akinji.
While everything was arranged and both had given the green light for their presence, it finally became known on the Monday evening that Akinji would not attend. The reasons behind this decision vary in foreground and background. While there was an agreement for the venue, information says that Akinji changed position, since the match would take place in the free areas.
According to a statement from the Akinji side, if the match takes place in the dead zone, Mr Akinji was ready to attend, but if the match is in an area under the control of the "Greek Cypriot Administration" – referring to the Republic of Cyprus – then he will not attend./ibna