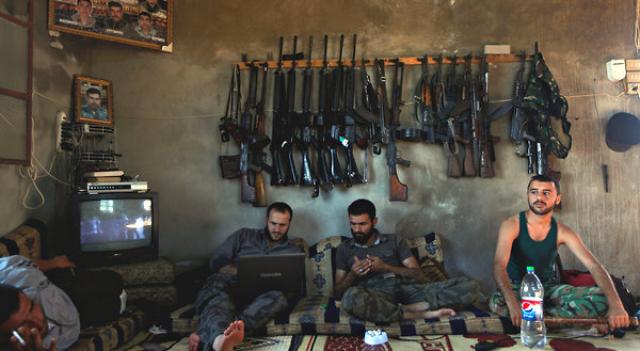 IBNA Special Report
Pristina, August 12, 2014/Independent Balkan News Agency
By Elton Tota

Kosovar analysts have commented the operation launched by the police of Kosovo against religious extremism.
According to them, fight against terrorism in Kosovo must see zero tolerance.
"However impressive and patriotic may be the police operation for the arrest of 40 Kosovo nationals suspected of belonging to ISIS and Al Nusra terrorist organization, I think that the fight against terrorism must see zero tolerance, as if we're soft with it, it may be too late and too difficult", says analyst Lumir Abdixhiku.

According to him, the head of terrorism are not some brainwashed boys and neither some anti-religious preachers who brainwash, but they are some incompetent politicians who offer them a chance to act.
"The head contains politicians who through corruption and theft, have caused poverty, unemployment and misery in the country, misery which produces an opportunity for brainwashing; politicians who through their ignorance have tolerated the activity of these terrorist organizations who have funded terrorism for 15 years in a row; politicians who have taken everything under control and have not allowed the state to react against anti-Albanian secret services and manipulative anti-religious preachers", says Abdixhiku.

Meanwhile, political analyst, Halil Matoshi says that yesterday's arrest of 40 people in Kosovo is an attempt of the political class to justify itself in front of the West.
According to him, PDK and AAK have been deeply involved in the growth of political Islam.
Matoshi says that first of all, authorities should have arrested imams, who through the permission of the Islamic Community of Kosovo (ICK), preach political Islam and anti-Semitism in mosques.

"ICK has constantly backed such tendencies by tolerating fascist like preaches under the veil of Islam in several Kosovar mosques and by fighting moderated Albanian imams of Kosovo. It's a known fact that mufti Naim Ternava is close to PDK and Hashim Thaci, because this political group has been interested on collecting votes from believers of this religion. Therefore, political parties and state institutions must demand the collective resignation of the head of ICK and must draft a regulation that prohibits propaganda in the Kosovar mosques of several parts of the Quran, which may be interpreted as calls for violence", says Matoshi.

Prominent Kosovar analyst, Shpend Kursani says that the actions of religious extremists come as a result of the lack of a clear perspective for many citizens of Kosovo, low economic development, social isolation and low level of education.
"I believe that the latest arrests made due to possible threats that this group has posed against institutions or citizens, have been the right thing to do. But, I don't think that this will resolve the problem, which is a growing one in Kosovo. This problem stems from the low economic development and the lacking perspective for many citizens of Kosovo, and also social isolation, especially in several regions of Kosovo along with poor education. If all these factors are not addressed, then such arrests will not solve the problem", says Kursani.
Kursani says that "based on the Criminal Code of Kosovo, these persons may be tried for planning possible violent acts or for possessing unlawful means".

Kursani doesn't see the failure to approve the Bill on the Prohibition of Participation in Armed Conflicts Abroad during last parliament term as a problem, as according to him, citizens "are very angry against institutions and the state" that they don't care about the laws of the country.
40 people suspected of participating in fights in Syria and Iraq alongside terrorist organizations such as ISIS and Al-Nusra, have been arrested in the early hours of Monday on suspicion of committing criminal offenses. /ibna/