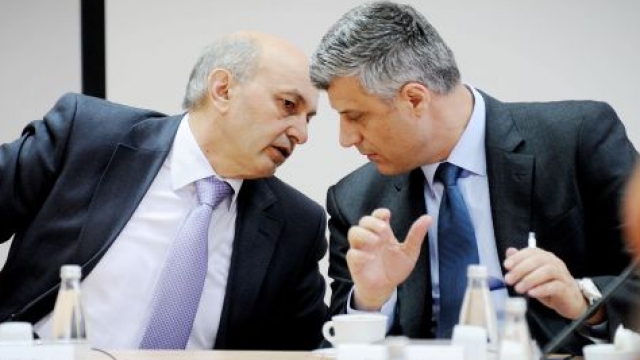 IBNA Special Report
Pristina, November 21, 2014/Independent Balkan News Agency
By Elton Tota
Democratic League of Kosovo (LDK) and Democratic Party of Kosovo (PDK) have appointed work groups that will work in order to draft the new governing program.
PDK leader, Hashim Thaci says that these work groups will determine the division of posts for the new institutions of Kosovo.
According to him, besides representatives of the two parties, the work groups will also have international experts that will help in order to build institutions and carry out reforms in the country.
"We will also have international experts, who will help us in order to start and build the new institutions, institutions that will carry out western reforms, political reforms, economic reforms and the necessary legislative reforms to continue economic development", said Thaci.
Thaci added that the government will also include communities.
IBNA news agency learns that November 28, which is a national holiday, will find Kosovo with a new government and a constituted parliament.
But, experts of political developments do not believe that these political exponents will improve the ruined image of the new state, which has faced challenges such as economic development, integration of the country, international recognition, etc.
Notable analyst, Vilhard Shala told IBNA that the citizens of Kosovo have tried both of these parties in government in 2007.
According to him, neither then, nor today there will be a cohesion and coordination of activities between the two parties to fight corruption, integrate the country or develop the economy.
"It's mission impossible. We're talking about the same politicians who are accused of criminal offenses and some representatives of these political parties have been convicted of corruption and organized crime. It's these politicians who have ruined the state of Kosovo with numerous corruption affairs, starting from the scandal with passports, corruptive privatization, etc. I don't think that Kosovo will see any changes", says Shala.
Nonetheless, Shala says that he's happy that the political crisis came to an end, as according to him, this would have serious consequences for Kosovo.
Analyst Shkelzen Dakaj told IBNA that the coalition between PDK and LDK is being considered as a great surprise due to what happened after the June 8 election result.
"An opposition bloc between LDK, AAK and Incentive was created and later, it had the support of Self Determination in order to remove PDK from power, after being in office for two terms in a row. This coalition was welcomed by almost everyone due to the bad governance and tens of scandals involving Hashim Thaci's party, PDK", says Dakaj.
But, Dakaj recalls that the situation inside of the bloc changed after the ruling of the Constitutional Court, which favored PDK for the post of the speaker of parliament, being the party that earned most of the votes in the elections.
"For this, the bloc had nominated the chairman of LDK, which could no longer take this post. This was a miscalculation of the bloc, which in reality, was fighting for posts more than to overthrow Thaci and PDK", says Dakaj.
According to him, we're in a situation where the two largest parties in the country will govern without any hope that the situation will be improved.
"I say this bearing in mind the fact that these two parties have governed together in the past and since that time, they are not remembered of improving the situation. I can say that they installed a bad practice in governing and a system which then led to degradation. PDK and LDK have not managed to clear their structures from mob influences. This is why the belief that they will bring a better governing for the citizens is minimal", added Dakaj.
Meanwhile, expert of political developments in Kosovo, Fatos Rushiti considers the departure of LDK from the opposition bloc and the new agreement with PDK as a victory for LDK.
"Of course, LDK was entitled to demand the post of PM from the opposition bloc, because there was a great difference in votes with other parties and it wanted to take responsibilities for the new governance of Kosovo", says Rushiti.
According to him, Self Determination may address criticism against the coalition, but other parties do not have this right, because they have proven that their governing has been full of corruption.
"Besides Self Determination, which is in its right to criticize, AAK has proven several times what sort of corruptive governing it offers, this way, LDK and PDK coalition must be seen as a normal thing in politics. Every party aims to seize power in order to implement its political program and this can be done with the post of the PM, which has the main role in the government", says Rushiti. /ibna/