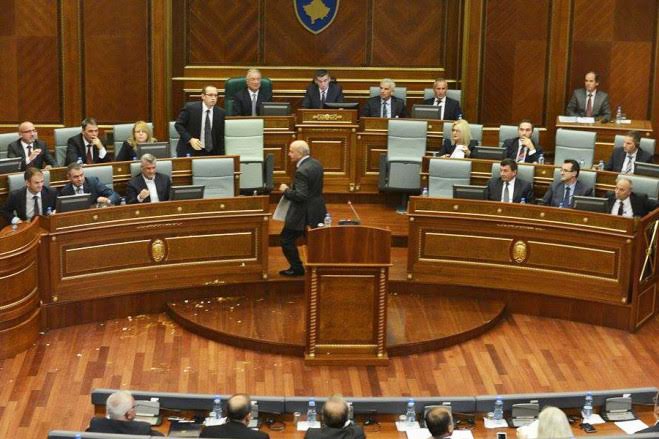 Pristina, 25 September 2015/Independent Balkan News Agency
By Elton Tota
Lack of communication and the fact that the opposition has been left out of the talks with Serbia, has led to a deteriorated political situation in Kosovo, where decision making in institutions is being blocked.
This is said by political analysts in Pristina. According to them, in the current circumstances, it's very difficult to predict an easy solution with tension.
Professor of political science, Arben Qirezi says that since 2001, there has been a tradition in Kosovo where the consensus of all political parties is required before taking major decisions.
The entire dialogue with Serbia, including the agreement on the creation of the Association of Serb Communes, has been considered a major decision.
But in this process, this government could not include give a role to the opposition, Qirezi says.
"These talks had to be based on some kind of consensus between political parties in the parliament of Kosovo. An internal dialogue was needed in order for parliamentary parties to come up with a joint stance and in order not to let the situation degenerate, as it was the case a few days ago in the parliament of Kosovo", Qirezi says.
Meanwhile, Blerim Burjani says that the lack of communication, exempting policies and struggle for power from both political camps, is damaging Kosovo's interests.
"The political parties in Kosovo have disappointed the citizens. On one side, we have the governing coalition fighting for its own personal interests and we have an opposition, which has no capacities to have an influence in the developments of the country. This opposition doesn't want to collaborate with the majority, but it wants to move this coalition from power", Burjani says.
The opposition had declared that one of the instruments that it would use, would consist on blocking the work of institutions, if the Association of Serb Communes would be decided.
Arben Qirezi says that in the current political circumstances, it's difficult to predict a solution, especially if there is no political dialogue between majority and opposition.
Since the signing of the agreement with Serbia for the creation of the Association of Serb Communes and border demarcation with Montenegro, PM Isa Mustafa has been targeted by the opposition.
The opposition is asking to the PM to withdraw from all the agreements that he has signed, in order to allow normal proceedings in the parliament of Kosovo.
Such demand has been rejected by the prime minister and governing cabinet and thus, a tense situation is expected to rule in the house of parliaments next week too. /ibna/