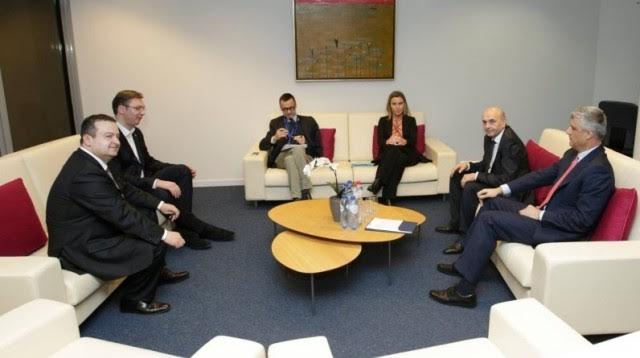 Pristina, 12 November 2015/Independent Balkan News Agency
By Elton Tota
Serbia's lobbying and the use of a hostile language against Kosovo's accession in the UNESCO, has shown that the Brussels' agreements signed by both countries are not yielding the expected results.
Namely, the April 19, 2013 agreement requires Serbia not to prevent Kosovo's accession in international organizations, but the provisions of this document have not been respected by the Serb side.
Besides the opposition, which is against the dialogue, analysts in Pristina also think that it's time for the government of Kosovo to change its approach toward the dialogue.
Columnist Halil Matoshi told IBNA that Serbia not only behaved in a hostile manner, but it also used a fascist like language about Kosovo, in violation of all the agreements for the normalization of relations and the fact that it should not prevent Kosovo's integration in international organizations.
"Therefore, the government of Kosovo must address to Brussels and the EU head of diplomacy, Federica Mogherini to remind Serbia and Brussels that these agreements can be suspended if Serbia continues to use such language against Kosovo and its people. Dialogue cannot continue if Serbia persists with this approach", Matoshi said.
Meanwhile, expert of integration affairs, Emrush Ujkani, told IBNA that government of Kosovo must reflect about the dialogue with Serbia.
"This must be an extra argument to reflect. I'm not saying that we must be against dialogue, but the government must reflect and review its position toward the dialogue with Serbia. The European Union must be clear on this and Mrs. Lunacek was well clear on this", Ujkani said.
Meanwhile, representatives of civil society have launched a joint declaration following Kosovo's failure to become a UNESCO member. In this declaration, they say that the failure to become a UNESCO member is one of the biggest blows given to Kosovo's international integration.
The declaration also says that there must be political responsibility and a revision of the position of Kosovo in the dialogue.
Opposition demands the dialogue to end
Three opposition parties in the country have demanded the government of Kosovo to stop dialogue with Serbia, following the country's failure to be accepted as a UNESCO member.
According to the opposition, there's no sense for dialogue to continue, given Serbia's racist campaign against the accession of the country in this organization.
The leader of Self Determination, Visar Ymeri, said that the unconditional talks led by the government of Kosovo are being reflected in the country and in the international arena.
Deputy prime minister and Foreign minister of Kosovo, Hashim Thaci said after the UNESCO voting in Paris, that efforts for better relations with the countries of the region will continue. /ibna/