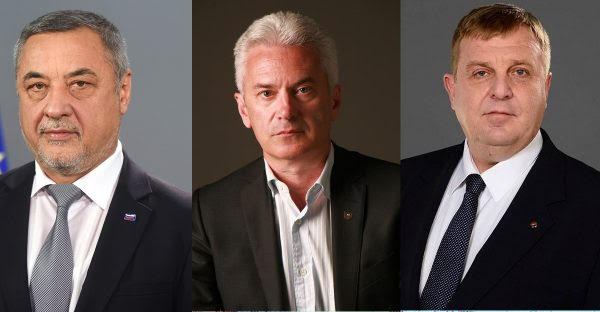 Misnomers in the names of political formations are common. Not all parties, or for that matter countries, that call themselves democratic are truly so. But in Bulgaria, the grouping known as the "United Patriots" is trading under a misnomer.
Leave aside the use of the word "patriot", for many decades a much-abused term. Consider the use of the word "united".
Formed of Valeri Simeonov's National Front for the Salvation of Bulgaria (NFSB), Krassimir Karakachanov's VMRO and Volen Siderov's Ataka, the United Patriots first stood together in the November 2016 presidential elections, and then in the March 2017 early parliamentary elections.
On a platform bringing together their common ultra-nationalist, far-right and populist policies and proposals, their place in the 2017 elections, as the third-largest group in the National Assembly, won them a seat at the government table.
Two of the three co-leaders, Simeonov and Karakachanov, became deputy prime ministers, with powerful portfolios. Siderov was appointed leader of the United Patriots parliamentary group. Like any minority government partner, they set about trying to become the tail that wags the dog.
None of the co-leaders is a newcomer to politics, though their careers vary in length. Nor were they new acquaintances when they formed their coalition.
The longer history is between Simeonov and Siderov. Simeonov several years ago founded a television station, Skat, in his home town of Bourgas. Its most popular presenter was Siderov, spouting torrents of ultra-nationalist sentiment to a niche that appreciated such fare. All the stuff familiar from most far-right orators in Europe – claims of pernicious control by foreigners, rhetoric against migrants, affirmations of loyalty to Eastern Orthodox Christianity, anti-LGBT messages, and that speciality of the Balkans, revulsion both for the memory of Ottoman rule and latter-day Turkey.
In a few years, however, Simeonov and Siderov drifted apart, until eventuall falling out altogether.
Siderov's political presence burst on the scene in the parliamentary elections of 2005, astonishing most pollsters and pundits by becoming the fourth-largest group in the National Assembly. It was only a few days before the election that it became apparent that a party that had been the butt of derisive laughter would now have a voice in Bulgaria's legislature.
The year 2006 brought even more astonishing stuff, as Siderov got the second round of the presidential elections, defeated at the last only by an informal coalition who backed incumbent Georgi Purvanov, formerly leader of the Bulgarian Socialist Party. Even centre-right voters cast their ballots for Purvanov, as the lesser of two evils, especially as Bulgaria headed to its January 2007 accession to the European Union.
The ensuing years saw a gradual decline for Ataka, and neither Simeonov's NFSB ever added up to much of a force (except in municipal votes in Bourgas), nor did Karakachanov's VMRO.
Siderov also has a history with Boiko Borissov, now in his third term as Prime Minister. Informally, Siderov's Ataka helped keep in Borissov's first government, a minority one, in power. Yet at the time of the ill-fated "Oresharski" administration in 2013/14, Siderov provided the vital vote that for a time, kept in place what was to prove the most unpopular government of Bulgaria's recent history.
By 2015, Bulgaria's far-right and nationalist formations were hardly matching the pace of growth of counterparts elsewhere in Europe. Yet, remembering how significantly Ataka had performed in 2005 and 2006, it was clear that there was a constituency for such a vote, but it was being split three or more ways (Bulgaria has a few minority parties with especially extreme views, seldom heard of between elections).
Fast forward to 2017, and with the United Patriots now in government, and a joint governance programme with Borissov's GERB party in place, it became obvious that, for instance, Borissov's rhetoric on migrants and EU external borders shifted notably to the right.
There is a wider incorrect belief in today's Europe. That is the ostensible defeat of far-right parties and politicians in elections in France, for instance, and elsewhere, is cause for relief, that Europe's stated liberal and progressive values enshrined at EU level remain untrammelled. This is a misconception. The force of the far-right, nationalist, populist and xenophobic parties has shifted the mainstream inexorably closer to their policies, to try to stave off the threat of the loss of formal power. In doing so, these parties have informal power.
But within weeks, clashes – personality-driven or no – were becoming apparent within the United Patriots. It became public that Simeonov was at loggerheads with Karakachanov. That settled down, it seemed, and in 2018 began the long series of skirmishes between Simeonov and Siderov.
And for all their commonalities, not all of the co-leaders share quite the same stated outlook. Siderov is well-known to be pro-Russian. Simeonov is skeptical of Putin's Kremlin.
Questions began to be asked how long the United Patriots could last as, well, united. In turn, questions began to be asked how long, should the "Patriots" implode, how long Borissov's third government could last.
Some commentators, however, pointed out that the infighting did not weaken Borissov, but strengthened him. As he had done with individuals in his second government, which was a coalition with the centre-right Reformist Bloc, Borissov dealt deftly with constituent members of the other force; a form of divide and rule, though it was the others who had done the dividing, without Borissov having to exert any effort.
Currently, with the civil war within the United Patriots, Borissov appears to have a modus vivendi with each individual leader of a side. Nor can anyone be unmindful of the fact that a split of the United Patriots into its three constituent parties would put them back where they were – each struggling and probably failing to surmount the threshold of four per cent of the vote to win seats in the National Assembly.
This might go on for some time, this scenario of Borissov plus three, except for the straining factor of Bulgaria's elections in 2019 – for the European Parliament in May and for municipal councils and mayors in autumn. It has become an open question whether the United Patriots will stand together under that banner in these polls. At this writing, it appears unlikely.
Siderov has been flirting politically with Nikolai Barekov, a former television presenter who had a brief and unimpressive peak in the previous European Parliament elections with a populist, well-funded campaign. Again, on his own, Barekov – who has said he would not seek a second term as an MEP – would in any case be severely unlikely to win one. In turn, Siderov, whose public image has been tainted by public incidents that now leave him with convictions for hooliganism, is hardly a force to be reckoned with should he lead Ataka to stand on its own.
Simeonov has a certain popularity among the polled public, and so does Karakachanov. The NFSB leader may be tempted to jettison Siderov, at some point, if there is a measure of opinion that Ataka no longer brings significant votes to the table. For whatever reason, this summer Simeonov behaved in a way as to suggest he was considering going out on his own, though he stepped back from the brink.
Siderov and Barekov signalled to Krassimir Karakachanov's VMRO that it may get an invitation to their little alliance ahead of the EP elections. If the United Patriots disunite, there may be a battle between Siderov and Simeonov about who gets custody of Karakachanov.
Picture a playground, and a children's roundabout. On it are three figures – Simeonov, Siderov and Karakachanov. They had a good ride for a while, and want to keep the roundabout spinning. But they squabble, and shout names, and then one – Karakachanov – tries to get the other two to make up, and then the quarrelling goes on again. The roundabout can only go as fast as possible if all three are kicking the ground to get momentum. Each, on his own, could not make it spin so well. So they push, and shout, and go round and round, all the time getting giddier. Perhaps they pull out their toy pistols and shout bang. One or another, every now and then, shouts that he is not playing anymore. He shouts to another to get off.
Yet round and round they go, round and round. Some time, it will all get too much, and the roundabout will have to stop. But not, perhaps, quite yet…. / IBNA