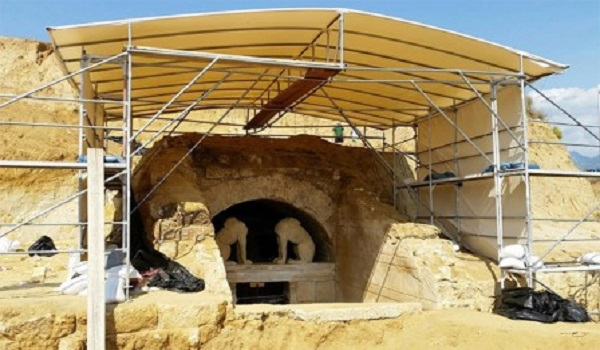 By Spiros Sideris – Athens
Impressive are the new findings that are revealed from the excavations in the tomb of Kasta, in Amphipolis, by the KH Ephorate of Prehistoric and Classical Antiquities.
As outlined by the Ministry of Culture, the last domos was removed from the wall that sealed the tomb, which closed the front of the burial monument, revealing the rest of the mosaic floor.
In the center and in front of the entrance a pebbled floor was revealed, consisting of rectangular and square shapes, surrounded by black and white rhombs.
At the bottom of the facade in the fresco can be seen a strip of blue color, which is also visible at the side walls.
The removal of soil from the atrium continues, two meters in width from the wall of the entrance.
The interior is still covered by volumes of soil, which will be removed, with great care in the coming days.
At the same time there is a systematically maintenance and fixing both of the front of the monument, and of the interior space that has been revealed.
Along with the progress of the excavation the external infrastructure is being built, which will ensure better working conditions for workers and safer protection of the burial monument from the weather.
On Tuesday (26/8), the installation of a temporary roof covering the outside of the monument was completed.
Finally, under the direction of Peristeri, an interdisciplinary team was created, consisting of specialists in civil engineering, architectural, geotechnical, surveying, maintenance and geologist.
It will provide the necessary technical support in the level of studies and work, which are necessary for the safeguarding of the monument. Priority was given to studies and works for the runoff of rainwater, for the static strengthening of the revealed walls, for the maintenance of surfaces of varying textures and colours.
The above work will be the focus of the interdisciplinary working group in the next few days.
With the progress of the revelation of the monument, a new press release will be issued from the ministry.