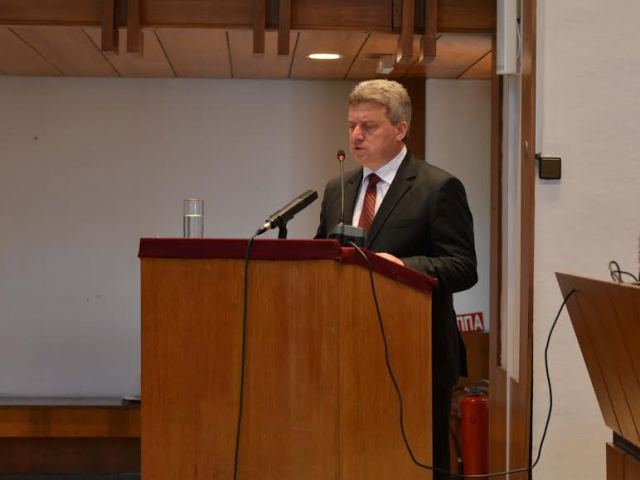 Skopje, 20 May 2016/Independent Balkan News Agency
By Naser Pajaziti
The decision of the president of FYROM, George Ivanov to grant amnesty for politicians involved in unlawful and corrupt acts, is a topic of debate in FYROM, following the annulment of the June 5 elections. Through the amendment of the amnesty bill, VMRO-DPMNE and BDI have given way to the abrogation of this decision by president Ivanov. One of the possibilities is for those people who have been granted amnesty to refuse it. Talat Xhaferi of BDI, said that these amendments offer the legal basis in order for president Ivanov to abrogate the decision to grant amnesty7 for 56 politicians.
The opposition has reacted against this decision, by considering it selective.
"Gruevski, VMRO-DPMNE and BDI propose laws which are against the interests of the citizens and the state. They bring unilateral decisions. Their main objective is to rescue the criminals that they have in their ranks. There cannot be a selective abrogation", the leader of SDSM, Zoran Zaev said.
Imer Aliu of PDSH (Albanian Democratic Party) said that this decision is deepening the crisis and not solving it.
"Przino political agreement is a failed one and the solution would come from a new agreement initiated by the international community. We are expecting a radicalization of the stance of the international community, following the irresponsible behavior of the two parties, BDI and VMRO-DPMNE. The decisions of these parties go against the messages sent by the international community", Aliu said.
The US State Department official, Brian Hoyt Yee said that the decision of president Ivanov to grant amnesty for incriminated politicians, has also damaged the credibility of FYROM as a country that aspires to become member of the European-Atlantic institutions.
"While leaders selectively abrogate the amnesty bill, this will grow the feeling of impunity in the country. Responsibility means that political leaders must offer full support for law enforcement agencies in the country", declared the US official.
Meanwhile, the German Foreign Ministry envoy, Johannes Haindl has held meetings with the leaders of the four main parties in the country and president George Ivanov. Their efforts have been boosted after parliament was reconvened and abolished the decision to hold elections on June 5, while for the moment, the amnesty granted by president Ivanov remains pending. /balkaneu.com/