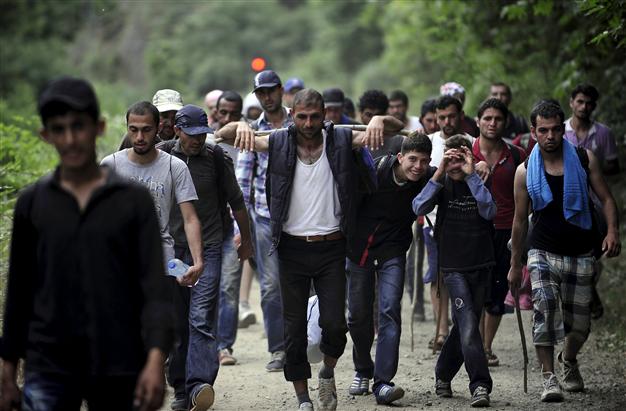 London, March 11, 2016/Independent Balkan News Agency
By Thanasis gavos
A wide array of concerns regarding violations of human rights in the Balkan countries are detailed in the Amnesty International report on the state of the world's human rights during 2015, which was presented in London.
As far as Albania is concerned, the report notes that Roma and Egyptian communities were denied adequate housing and were subjected to forced evictions. At the same time thousands of Albanians, driven by poverty, sought asylum in the EU. "Protection against domestic violence remained inadequate," adds the report.
In Bosnia & Herzegovina violations of the right to freedom of expression as well as discrimination against Jews and Roma are reported. Moreover, the organisation says that access to justice and reparation for past crimes remained limited due to a lack of commitment to adopt, and secure adequate resources for, state-wide programmes.
Allegations of push-backs of refugees and migrants by Bulgarian border police persisted, according to Amnesty International, while the reception conditions of asylum-seekers remained poor and there was no integration plan for recognised refugees. Local and national authorities continued to forcibly evict Roma, and the amendment of hate crime legislation stalled.
A similar criticism is aimed at Croatia: "Croatia struggled to provide adequate reception conditions and access to asylum proceedings to the large number of refugees and migrants that arrived in the country." Furthermore, discrimination against Croatian Serbs and Roma continued.
Cyprus is being held to account for detaining irregular migrants for prolonged periods in inadequate conditions. The report also notes that allegations of ill-treatment by law enforcement officials continued.
In F.Y.R.O. Macedonia Amnesty International highlights the publication of audio recordings not only revealing evidence of government corruption, but demonstrating widespread covert surveillance. "The authorities failed to respect the rights of refugees and migrants, including by the use of unlawful detention and the excessive use of force," is another criticism.
On Greece, the report states that the dramatic increase in arrivals of asylum-seekers and irregular migrants on the Aegean islands pushed an ineffective first reception system beyond breaking point, while collective expulsions continued at the Greek-Turkish border. Allegations of torture and other ill-treatment and excessive use of force by police persisted.
Montenegro did not avert a continuation of "threats and attacks against independent media and journalists," with few perpetrators brought to justice. Police used excessive force during mass protests organised by opposition parties against the government's failure to address poverty, crime and corruption.
In Romania, Roma continued to experience discrimination, forced evictions and other human rights violations. Following the release of the US Senate report on the CIA secret detention programme, a new investigation into Romania's co-operation was opened.
Serbia saw over 600,000 refugees and migrants travelling through its territory on their way to the EU. Prosecutions of war crimes continued to be slow, while in Kosovo opposition parties delayed the establishment of a Special War Crimes Court and the implementation of an EU-brokered agreement with Serbia.
Slovenia "struggled to provide adequate reception conditions to the large number of refugees and migrants that arrived in the country." The authorities failed to restore the status of the "erased" or provide adequate redress, perpetuating the long-standing violations of their rights. Discrimination against Roma remained widespread.
The Amnesty International report highlights a number of concerns regarding human rights in Turkey. "The human rights situation deteriorated markedly following parliamentary elections in June and the outbreak of violence between the Kurdistan Workers' Party (PKK) and the Turkish armed forces in July. The media faced unprecedented pressure from the government; free expression online and offline suffered significantly. The right to freedom of peaceful assembly continued to be violated. Cases of excessive use of force by police and ill-treatment in detention increased. Impunity for human rights abuses persisted. The independence of the judiciary was further eroded," it is reported.
It also notes that an estimated 2.5 million refugees and asylum-seekers were accommodated in Turkey, but individuals increasingly faced arbitrary detention and deportation as the government negotiated a migration deal with the EU.
Overall 160 countries feature in the report, with the international organisation stating that "the past year severely tested the international system's capacity to respond to crises and mass forced displacements of people, and found it woefully inadequate. More people are currently displaced and seeking refuge worldwide than at any point since the Second World War… So far attempts to resolve the conflict have simply served to highlight global and regional divisions."