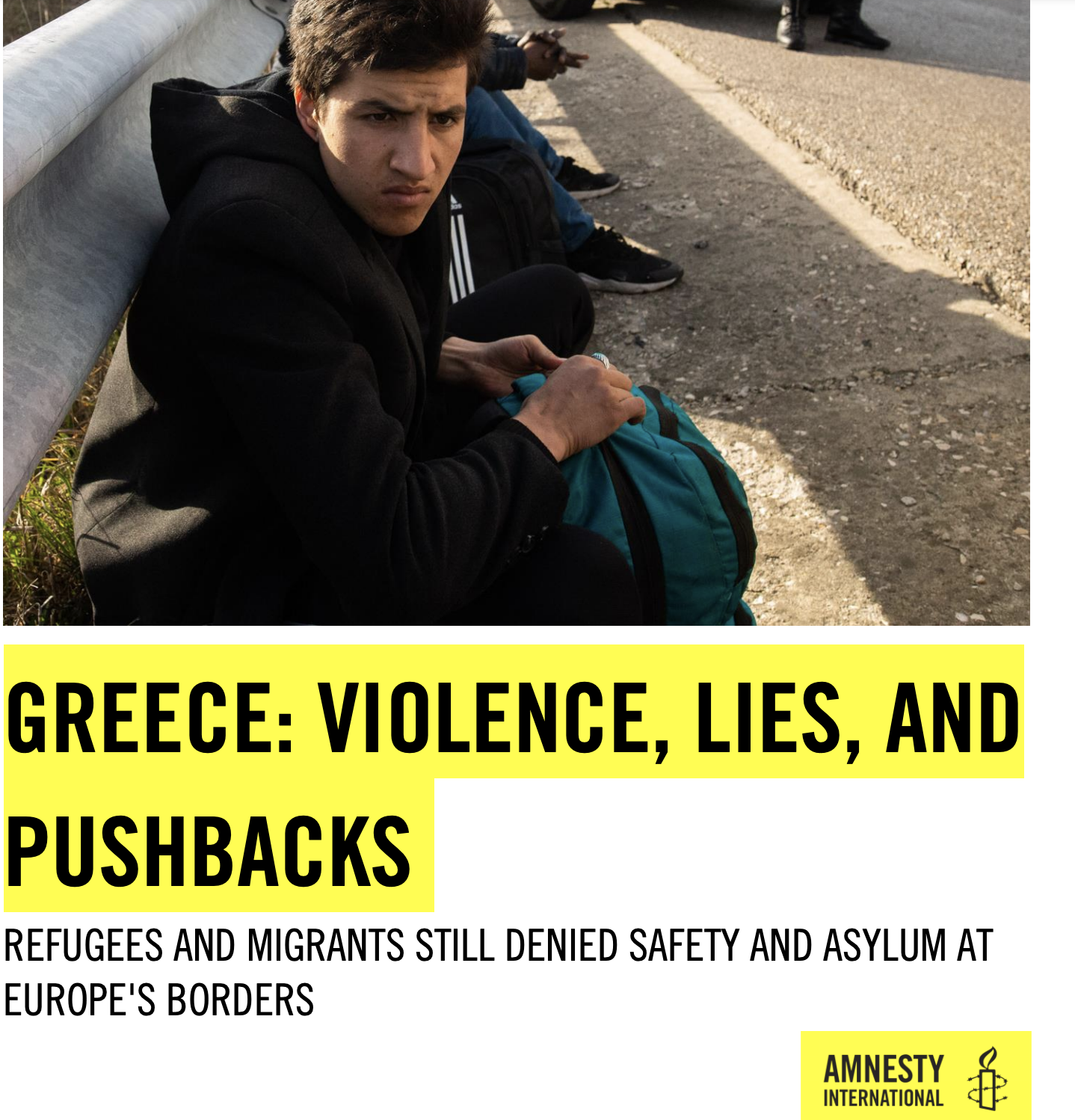 Amnesty International said Wednesday that the practice of migrant pushbacks in Greece has become so bad that even people who have applied for asylum and been in the country for some time are being summarily picked up and deported.
In April 2020 Amnesty International and many others documented how, in the midst of escalating political tensions with Turkey, Greece systematically used "pushbacks" and committed other human rights abuses to prevent people from entering the EU.
Months later, pushbacks continue to regularly trample migrants and refugees' rights, despite systematic official denials and aided by a climate of impunity.
This research documents 21 new pushback incidents and other abuses occurring between June and December 2020, based on the testimonies of 16 individuals. Through their experience and building upon the compelling body of evidence by international human rights bodies, civil society, and journalists, it proves the continued, routine use of these brutal tactics by Greece as an entrenched method of border control at land and sea.
Amnesty International's research highlights the frequency and similarity of patterns of violation, focusing primarily on the land border between Turkey and Greece (the "Evros" region).
The findings of the present research, together with the comprehensive body of evidence on the subject, show that the use of pushbacks by Greece cannot be considered as a response to exceptional events or the actions of rogue actors. Rather, it is a de facto policy of border management that relies on the coordinated efforts of multiple authorities in Greece. The pushbacks documented by Amnesty International for this report reveal that, prior to being summarily expelled from Greece over the Evros river, individuals were often targets of complex and coordinated operations across the country, aimed at transferring them within close proximity to the Evros land border in order to expel them. The incidents documented for this report all resulted in forced returns that violate Greek, EU and international human rights law. Additionally, the methods used to intercept, apprehend, and return migrants and refugees, which include the use of violence and arbitrary detention, illtreatment, and possibly torture, often amounted to violations in their own right. Turkey's practices, documented as part of the research, are also often problematic. While border forces were described to sometimes assist victims of pushbacks by Greece, Amnesty International documented incidents of seeming retribution against refugees and migrants. These included threats or acts of violence and even unlawful returns to Greece.
Amnesty International believes that Turkey also violated the rights of refugees and migrants at the borders and exposed them to risks. The organization heard the testimonies of people who stated that as they were returning from Greece to Turkey via the Evros river, including after a pushback by Greece, they encountered Turkish "officers" who forced them or attempted to force them back to Greece or to an islet in the river. On the islets, in some instances, Turkish authorities allegedly refused to promptly rescue people or allow them on the shore. In one case, Amnesty International heard allegations that a large group of people, including many small children, were held arbitrarily at a Turkish "military base" after having been pushed back by Greece, and officers manning the site attempted to force some of them back across the river.
Amnesty called on the European Commission to launch infringement proceedings against Greece "for its violation of EU asylum and fundamental rights law."
It appealed to the Turkish authorities to "halt all practices forcing or pressuring individuals to return to Greece, including through the use of threats or violence and conduct prompt, independent, impartial, and effective investigations into all such allegations."/ibna