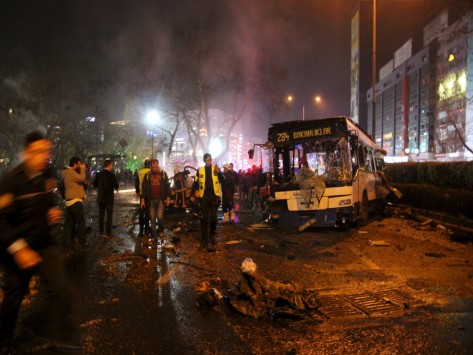 Ankara, March 14, 2016/Independent Balkan News Agency
By Manolis Kostidis
The Turkish authorities are deeply concerned about the latest bombing that occurred at 6:40 pm in the Güvenpark area of ​​Ankara, killing at least 27 people and injured 75 others.
Early information says the attack was performed by a suicide bomber who drove a car filled with explosives and threw it onto a bus. No organisation has taken responsibility for this terrorist attack, but just a few hours before the attack, the Turkish authorities had announced a curfew in two areas of southeastern Turkey. In the town Yüksekova and Silopi 20,000 men of the Turkish Armed Forces are preparing to conduct cleansing operations within the city as they did in Cizre and Sur districts of Diyarbakır. That is precisely why the Turkish authorities are turning their eyes to the PKK.
But this attack is the third in five months in the Turkish capital which had brought fear among Turkish citizens. In October 2015 two suicide bombers of the Islamic State had struck out of the railway station killing 86 people. On February 17, a suicide bomber member of a branch of the PKK, had targeted buses of the Turkish army killing 28 people.
Across the country there have been suicide bombings in Istanbul Suruç in the Islamic State.
A month ago the Turkish security authorities had sent a letter to the police and reported that 11 aspiring suicide bombers are moving within the country and are preparing for action.
The US Embassy in Ankara on March 11 warned US citizens of a possible suicide bombing at the center of the Turkish capital.
Prime Minister Ahmet Davutoğlu called an emergency meeting to examine the developments.