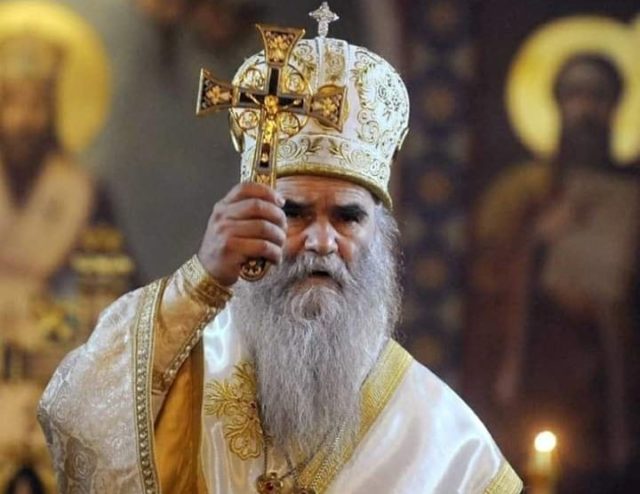 Metropolitan of Montenegro and the Littoral, Amfilohije, said in the interview for Dan Newspaper that measures on the abolition of rights of believers to worship are a serious decision that had to be rendered in an open dialogue, as it is one of the most delicate human rights. Commenting on his recent arrest after the church service in Zlatica, the Metropolitan said that it was the continuation of the state's way to threat the Church.
"Right after the adoption of measures for the suppression of the epidemic, the Metropolitanate reduced its very active church life to a minimum. Apart from worship service and activities of several important church administrative institutions, everything stopped. But, obviously it was not enough. It was necessary to humiliate the Church. That, of course, did not work, and it will not work. The Church did its best in the organization of the service in Zlatica. There were just a small number of priests, and not many believers and children", Amfilohije explained.
He added that arrest of the Metropolitan, priests and church servants, without doubt, is a continuation of the way this government has been treating the Church over the past 20 years. In fact, as he said, that treatment has been on since 1945, with little breaks in between.
"If public health is really the only goal, police had other ways, less violent and controversial, to protect it. As for the police themselves, that department is arranged by a strict hierarchy and they definitely did what they were told to do. What is astonishing, however, is the animosity of some media and some individuals who seemed to rejoice with the fact that priests and believers were under arrest", said the Metropolitan.
In response to the question how services will be performed during Easter, Amfilohije stated that it was not easy to call on the believers to refrain from celebrating Easter in temples.
"Before the public address, we were informed by the medical team leading the fight against the epidemic that the situation was very serious and that motives for the adoption of such measures were of medical nature, with the aim of protecting the human health. We believe them, but we are not that naïve as not to see that many use this scourge for their ideological and political ends. In that sense, we had a dilemma over whether such measures can be justified", Amfilohije said.
He stressed that the pandemic, just like any other trouble human race or individual faced, is always "a good opportunity to remind ourselves how fragile we are and how unhappy and miserable we would be if the last act of our life was a tomb, the end of our earthly life. Thank God, it's not like that. A tomb is not the end of what we are, and we are not that unhappy".
The Metropolitan said that pandemic reminds that all people are born equal and that all need help and care in order to recover from the sins. "Unlike the virus, which does not do us harm intentionally, we are often worse than beasts, live in hatred, divisions, and selfishness"./ibna