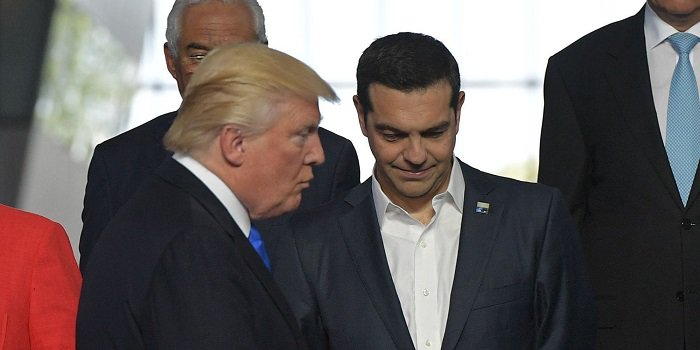 At noon local (U.S.) time on Tuesday, 17 October, American president Donald Trump will welcome Greek premier, Alexis Tsipras at his oval office in the White House, where they are expected to have a private twenty-minute meeting, according to the official schedule.
Later on they will have a working lunch together with the American Vice president, Mike Pence, the Secretary of State Rex Tillerson, the National Security Advisor, H.R. McMaster, Defence, Treasury and Commerce Secretaries and others. IBNA sources explained that this broadened, official get together proves the upgraded level of it.
One of the veteran Greek American politicians told IBNA that this is the first time when during a Greek premier's visit, the cabinet's most important Secretaries gather to participate in such a meeting. More impressive, the source said, is the fact that a Greek PM will hold private meetings both with the American president and the Vice president during the same visit to the U.S.
Monday's meeting between the Greek FM, Nikos Kotzias and the National Security Advisor, H.R. McMaster was of particular importance. It lasted for over two hours with the two counterparts discussing bilateral issues, security matters, defence and terrorism, regional and international subjects. Among them, Greek initiative in the Southern Mediterranean Sea topped their agenda as well as trilateral and quadrilateral cooperations, the Cyprus issue, Syria, Libya, the Israeli – Palaistinian conflict, the Kurdish issue and many more.
The outcome of the meeting was positive and helped in designing the wider framework of cooperation within which the two countries will work. The special weight of the National Security Council proves that Monday's agenda of Kotzias – McMaster meeting will be part of the talk between Tsipras – Trump, on Tuesday, too.
There are no illusions, however, that there will be a tangible outcome after the meeting of the two leaders. Nonetheless, a high official in the American government, told IBNA that regional and international developments and the recovery of the Greek economy will pave the way for bilateral ties' broadening and strengthening. It is believed this will be of great help to Greece, since it will certify its upgrading at global level.
NATO's base in Souda, Crete, interests the U.S. but is not part of the present agenda, the same source told IBNA, adding that the priority remains to support a trustworthy ally and improve bilateral relations.
Last but not least, according to premier Tsipras's official schedule, the Greek PM and the American president will give a joint presser at White House's Rose Garden where they will answer journalists' questions…/IBNA