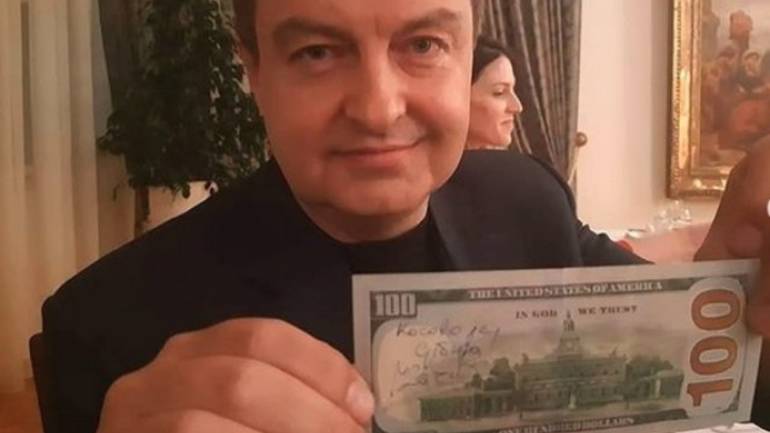 After Serbian Foreign Minister Ivica Dacic wrote "Kosovo is Serbia" on a 100 dollar banknote, the United States Embassy in Serbia stated that he should rethink his move.
"Rather than destroying the banknote carrying the portrait of great American scientist and statesman Benjamin Franklin, minister Dacic should think about his quote: 'Be at war with your vices, at peace with your neighbors", the Embassy told Radio Free Europe (RFE).
The action was launched by the owner of a Belgrade restaurant on Facebook and Instagram. Vojin Cucic has called his followers to write 'Kosovo is Serbia' on euro and dollar notes and share the pictures online. The idea was to make purchases with these banknotes, BBC Serbia reported.
"Several thousand photos have been shared so far. The aim is to reach one million", Cucic said on Thursday.
Dacic destroyed a 100 dollar banknote in Cucic's restaurant.
According to accounts, the "call to action" has attracted a large number of people.
"I would write the words 'Kosovo is Serbia' on denominations of all countries which claim the opposite. That is our country's policy, that's what I am always saying. So why shouldn't I write it", Dacic said.
Dollars and euros are "most popular", reports say, but denominations from Switzerland, South Africa, Ukraine, Moldova, Kenya and Russia have also appeared bearing the 'Kosovo is Serbia' message.
South Africa, Ukraine, Moldova, Kenya and China do not recognize Kosovo's independence, along with five European Union members.
In August 2018 a total of 21.7 billion euros in banknotes circulated in Eurozone member-states alone, according to the European Central Bank./ibna