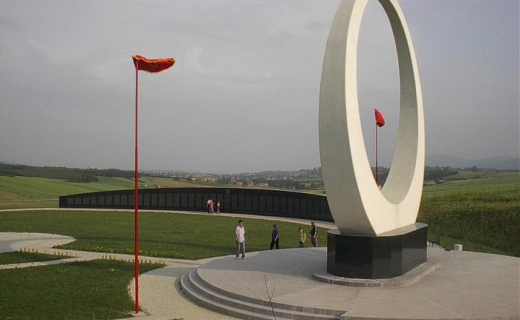 Pristina, April 8, 2014/Independent Balkan News Agency
By Elton Tota
Kosovo's Liberation Army Memorial Complex in Morina, Skenderaj, which has a marble plaque with the names of 2 thousand martyrs of KLA war from all over Kosovo engraved on it, has been shut down.
The donor and the mastermind of KLA Memorial in Morina, Benito Mares, supported by other American donors, has covered the marble plaque with aluminum plaques, as a sign of discontent toward the government of Kosovo, which according to them, has not met its obligation of taking care and maintaining the memorial.
The American donors have considered the "irresponsibility of the government of Kosovo as a disgraceful negligence" and according to them, it has not shown the necessary care for the Memorial of the Kosovo's Liberation Army, which has been subject to vandalism.
A sign put at the entry of the complex says: "Dear visitors and patriots, the American donors who built the first phase of the National Memorial of KLA are saddened by the fact that the government of Kosovo has never been responsible in preserving and maintaining this place which honors all the men and women of KLA, killed during the war for freedom. Since the memorial was inaugurated in 2005, all expenses have been paid by American donors, expecting the government to do its job. Given that there's been so much vandalism and desecration so far and the government of Kosovo has not taken any steps and for this reason, American donors decided to shut down the memorial until further notice, states the notice put at the entrance of the complex, which was signed by Benito Mares, a sponsor.
The notice instructs visitors to contact local and central government politicians to improve this situation as soon as possible. The memorial was one of the most visited locations and a symbol of the martyrs of the war. /ibna/