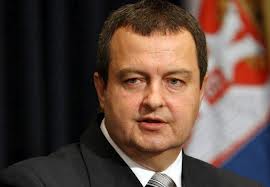 By Milos Mitrovic – Belgade
Hewlett Packard, Oracle and PayPal have serious plans to go into business with Serbia, Serbian Prime Minister Ivica Dacic said after he had met the representatives of the companies in San Francisco on Tuesday. He also said that Apple and Google would have come to Serbia by the end of the year.
Dacic, who is in the official visit to the United States, stressed that Serbian market was rather small and that it would have hardly attracted these companies by its purchasing power, Serbian media reported. However, well-educated IT workforce, as well as favorable business climate is the advantage of Serbian market, Dacic said.
Hewlett Packard was among the first foreign companies to run into Serbian market after the abolition of the international embargo that had been imposed to Serbia during the 1990s, Dacic recalled. Cooperation between Serbia and Hewlett Packard is very good, he added.
"The point is not whether we will purchase their (Hewlett Packard's) franchises or products. The point is whether we will work for them more than before and whether their presence will be strengthened in Serbian market", Dacic said.
Dacic recalled that Serbian Government and Oracle had signed the Strategic Partnership Agreement. He announced that the duration of the agreement would be prolonged for another three years. "We have discussed some projects (by Serbian Government and Oracle) that could create jobs in Serbia", Dacic said. He expects that Serbian Government and Oracle will cooperate in the field of scientific research, as well as in the area of development projects. Serbia and Oracle could also make products for the third markets", Dacic said.
Buying on the Internet has recently become available for Serbian citizens, Dacic stressed during his meeting with the representatives of PayPal. He requested PayPal to enable selling Serbian products in the international markets, Serbian media reported.
"This is going to happen soon", Dacic promised. However, he said that Serbia was supposed to change some national laws in order to make selling possible.
Serbian Prime Minister was impressed with some facts regarding the companies he visited. "Hewlett Packard has about 300,000 employees; Oracle's annual turnover is bigger than Serbian GDP. PayPal has 123 million users in more than 190 countries and annual turnover of $145 billion".
Dacic will confer with U.S. Vice President Joe Biden later on Wednesday. He will also meet with the U.S. Deputy Secretary of State William Burns.