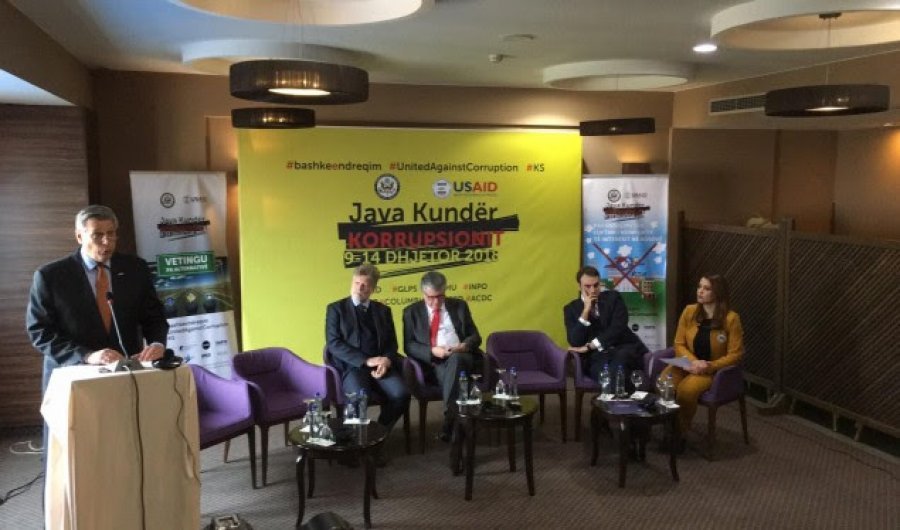 Week Against Corruption 2018 has started today in Kosovo. An activity hosted on the occasion of this week has seen the participation of the Quint ambassadors, who conveyed encouraging messages for the fight against corruption in the country.
EU ambassador to Kosovo, Nataliya Apostolova said that corruption is ruining Kosovo's image. She said that a bill package has been approved in order to boost the fight against corruption, however, these laws should be implemented.
"We have demanded from the authorities in Kosovo to take firm action against corruption and there are laws which enable this", she said.
The new US ambassador to Kosovo, Philip Kosnett said that Kosovo has voted nine bills into laws, but according to him, government officials continue to accept bribes, they interfere in the justice system and employ their relatives.
"In Kosovo there are officials who often put their personal interests above those of society. Time has come to act in the fight against corruption", Kosnett says.
Meanwhile, UK's ambassador, Ruairi O'Connell said that Kosovo needs to fight corruption the same way corruption is fought in Britain.
He added that people with power interfere in the judicial system.  Meanwhile, the Italian ambassador, Piero Cristoforo Sardi says that no country is immune to corruption and that neither is Kosovo.
Meanwhile, same messages of support for the fight against corruption were also conveyed by the German and French ambassadors. /ibna/