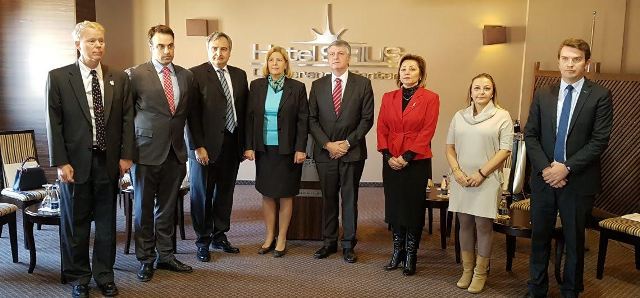 The ambassadors of the five most developed countries have called on institutions of Kosovo, especially to the justice system in the country, to fight corruption.
These appeals made by the ambassadors of the USA, UK, France, Germany and Italy were made in the framework of the opening of the Week against Corruption in Kosovo.
In his speech, the US ambassador Greg Delawie said that "the fight that citizens make to corruption is very important".
"Corruption is not something new for Kosovo. For the first time, this week I am happy to see a coalition of embassies and civil society in Kosovo which are raising their voice by offering concrete solution through action and battle against corruption", Delawie said.
According to him, "opinion polls show that citizens of Kosovo do not trust the judicial system".
The ambassador said that "the embassy that I represent is working closely with the Ministry of Justice and other institutions to draft a bill which strengthens the capacities of the Office of the Disciplinary Prosecutor, as a crucial component to restore trust in the justice system and help judges and prosecutors to act with responsibility".
Representatives of diplomatic missions in Kosovo said that they are aware of the presence of corruption in Kosovo.
German ambassador in Kosovo, Angelika Viets said that "the embassy is focused on attracting investments in Kosovo and for this reason, fight against corruption is important".
According to her, "corruption has an impact on the services that are offered to the citizens and it creates a lack of trust as a result of the lack of efficiency".
She said that "the government must offer better services with an efficient and transparent system toward the public".
The high level of corruption and organized crime has been stressed in almost all European Commission Progress Reports and in reports issued by international organizations and has been considered "as one of the biggest problems for the development of Kosovo".  /balkaneu.com/