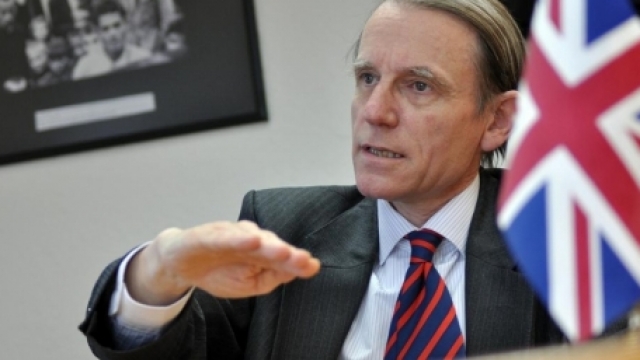 Cliff: "Government of Great Britain believes that the foundation of this court is of an absolute necessity and it's not addressed against Kosovo and KLA. The tribunal will try individual crimes". Zbogar: "It's not a proposal for the creation of a Tribunal, but a Special Court which will clarify the suspicions addressed by Dick Marty"
Pristina, April 9, 2014/Independent Balkan News Agency
By Elton Tota
Ambassador of Great Britain in Kosovo, Ian Cliff and the special representative of the EU to Kosovo, Samuel Zbogar have come out with a new version about the Tribunal on KLA. According to them, the Tribunal will be a special court of Kosovo, but under the umbrella of the EU mission in Kosovo, EULEX.
British ambassador to Kosovo, Ian Cliff has declared that the Court on the war crimes allegedly perpetrated in Kosovo "will be a Kosovar court, but under the EULEX umbrella" and will try cases based on the laws of Kosovo.
Cliff said that prosecutors and judges will belong to the international community, while the court's head office will be in Kosovo and Netherlands.
"The British government believes that the creation of this court is necessary, but it's not a court addressed against Kosovo and KLA. The court will deal with individual crimes", said Cliff.
He said that the extension of EULEX's mandate for another two years is also important for the court on war crimes.
Meanwhile, Samuel Zbogar, special representative of the EU to Kosovo, says that the foundation of the Special Court on war crimes benefits Kosovo and its citizens. According to him, this Court will clarify the suspicions raised by Dick Marty.
Zbogar said that this is not a proposal for a Tribunal, but for the creation of a Special Court.
"Above all, what we're proposing is not the creation of a Tribunal, but a Special Court. We're not proposing a Special Court for the crimes of KLA, but a Special Court for the crimes that may or may not have occurred and which have been mentioned in the Dick Marty's report", declared Zbogar.
According to him, Kosovo will benefit if Dick Marty's report approved by the European Council is clarified.
"Dick Marty's report which was drafted in 2010 was approved by the Council of Europe in 2011. European Union or EULEX took upon itself the responsibility to deal with this report at the time. I believe that this report has done great damage and continues to do great damage to Kosovo and its image. Therefore, it's in the interest of Kosovo to clarify the report", said Zbogar. /ibna/