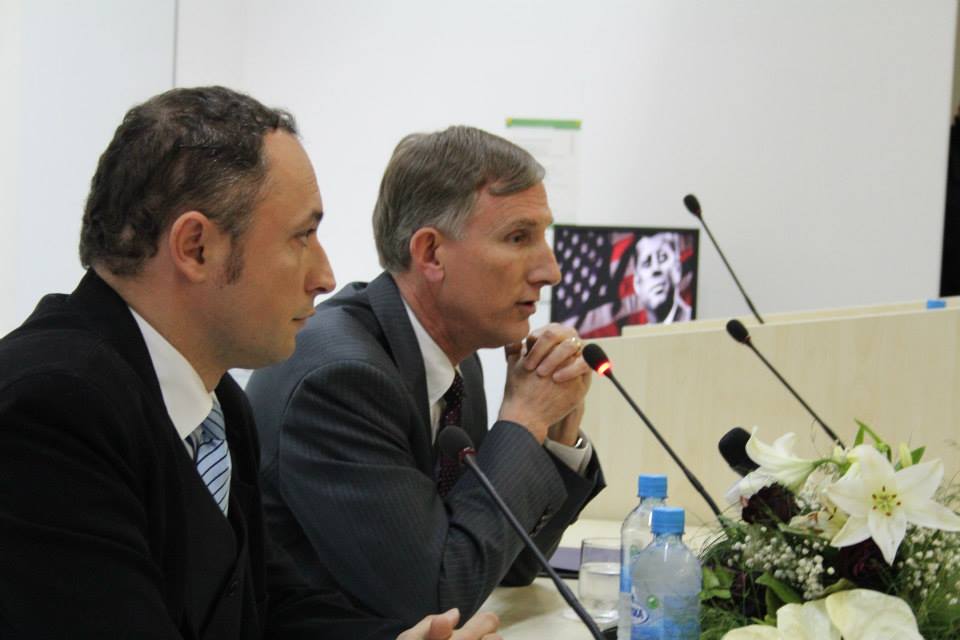 Tetovo, November 26, 2013
US ambassador to FYR Macedonia, Paul Volers has declared that it's dangerous for a nation to form an identity by going back in time.
He has stressed this in the University of Southeast Europe in Tetovo on the occasion of a lecture held for the 50th anniversary of the killing of the former US president, John F. Kennedy.
After a long speech about the killing and the comments on it 50 years later, the US ambassador has also talked about the current issues of FYROM, in particular on the issues of the name dispute.
"As people of Macedonia, you must decide on how to define yourself and based on what values. You cannot define yourself based on your nationality, which differs. You cannot do it based on the religion, which differs and not even based on culture which is similar, but not the same. You must find what you have in common and there must be a big debate on this.
Some attempt to do this through the formation of an identity, by going back in time, but like I said, this is dangerous for the identity, because some may feel left out. I believe that many people in this country feel left out as a result of such approach. Therefore, the request for joint values is very important for the future. According to me, everyone should participate in this debate", declared ambassador Volers.
Ambassador Volers declared that there are many similarities between FYR Macedonia and USA which can be applied in manifesting the identity.
The US ambassador reiterated what Kennedy said "Don't ask what your country can do for you, but what you can do for your country". Volers has linked this with the latest developments in FYROM, where everyone is expecting things to be solved by the state, USA, EU. "If you expect the state to solve all the problems, then your wait will be very long. If you want to make your country more powerful and better, this depends on you. The solution to your problems depends on your work and decisions and not the state", declared US ambassador Volers at the University of Southeast Europe in Tetovo. /ibna/