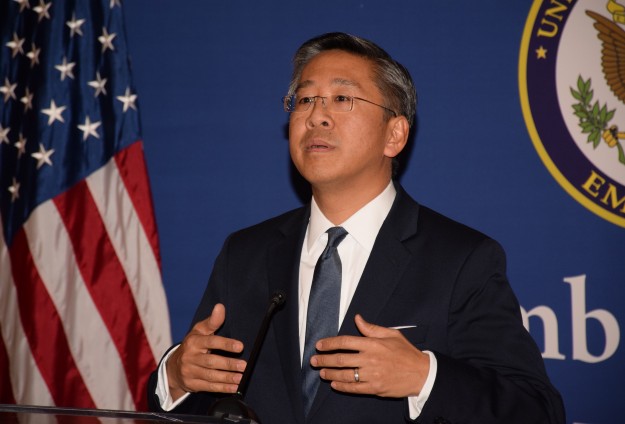 Tirana, 18 November 2015/Independent Balkan News Agency
US ambassador in Tirana has taken off the "diplomat's gloves" and has mentioned several names which are part of the underworld and which according to him, do not want the reform in the justice system.
After less than a week when he decided to be speak openly against those corrupt ministers, judges and prosecutors who do not want the reform in justice, the US ambassador, Donald Lu also spoke of those people who come from the underworld.
"Other people who must fear the reform are criminals, perpetrators of serious crimes who are on the loose. People like Arben Frroku, who killed a chief of police, who in a mysterious way was allowed to leave the country while the case was being appealed. People like the trafficker convicted of narcotics, Emiljano Shullazi, who has been accused by the media for traffic of narcotics and murder, but without being brought to justice. People like Sokol Mjacaj, who was convicted for the murder of a 13 year old boy, but in a suspicious way, was released from prison and then went on and killed a Czech couple. These are the kind of people who must fear a functional justice system", Mr. Lu said.
Lu made these declarations during a public roundtable on justice. "This is your justice system. Have the courage to speak out your opinions and do not repeat what we were asked to say! Do not fear these unscrupulous people!", Mr. Lu said.
The US ambassador added that the reform in the justice system is expected to keep politics distant from the judiciary system, to force judges to convict their corrupt colleagues and for them not to be influenced.
Referring to international reports, Donald Lu reminded to participating prosecutors, that Albania has the lowest figures of prosecution in Europe.  The ambassador also had a message for those superiors that give orders to their subordinates without saying if this phenomenon has to do with judges or prosecutors.
"Recently, I have realized that several people were told by their superiors what they must say, or even worse, what they must not say. If this is true, then this reminds me more of the communist past in Albania than its democratic future. The scope of these meetings is to listen to the public, including prosecutors, about these reforms. This is your justice system", Lu declared.
Last week, the US ambassador to Tirana, Donald Lu, launched another strong declaration: "No Albanian believes today that the justice system is independent. It's not independent from bribery, phone calls, where people with power call the representatives of the justice system. It is not independent from the pressure exerted by organized crime".
Lu also raised the question "who fears the reform in the justice system?", by also answering to this question: "Corrupt ministers, criminal MPs, corrupt and incompetent judges, corrupt prosecutors who take your money and do not do their job. These are the people who want to get richer at the detriment of the Albanian people". /ibna/