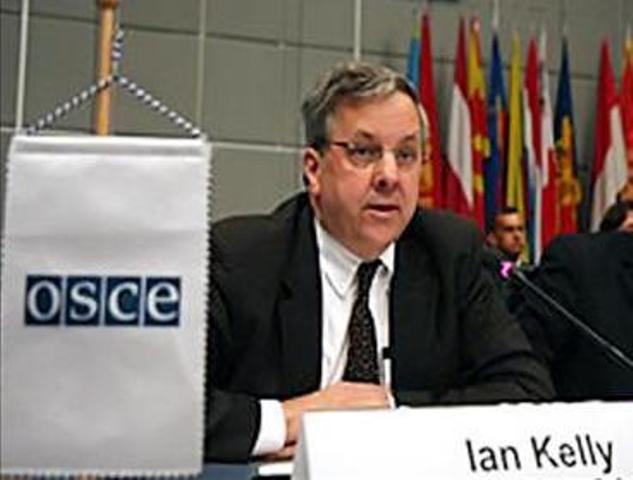 Tirana, June 27, 2013
US ambassador at the OSCE, Ian Kelly has congratulated Albanian people for their peaceful and active participation in the June 23 election.
"Everywhere throughout the country, Albanian people participated in the polls to exert their basic democratic right, that of the vote", said Kelly in his speech before the Permanent Council in Vienna.
"We support the monitoring mission of OSCE/ODIHR and the joint assessment of ODIHR, parliamentary assembly of OSCE and Parliamentary Assembly of the Council of Europe, which declared that Albanian citizens have expressed their free will in the ballot box. We encourage authorities to finalize the counting of the ballots and to treat every complaint in a transparent, rapid and legal way", said Kelly.
According to ambassador Kelly, "now that the people of Albania have made their voice to be heard, the USA encourage all parties to work together in a constructive way in order to take forward the democratic and economic development of Albania. The difficult task of building a democracy doesn't end after the ballots are counted and winners announced. Political leaders will be judged based on what they do, and not on what they say. After its formation, we encourage the new government to continue strengthening the rule of law, improve the standards of human rights, promote a transparent governing and accountability, to promote economic development and to work for sustainable democratic reforms in the consensual way of EU accession. This is a process which will also require from the opposition to play a constructive role and we demand its involvement in the future of Albania.
We join with the European Union in welcoming a constructive cooperation between ODIHR election monitoring mission and OSCE Parliamentary Assembly monitoring mission during this election in Albania and express our hope that this positive approach will act as a foundation for the renewal of the vows undertaken on Decision 19/06 of the Ministerial Council and the Cooperation Agreement of 1997", concluded ambassador Kelly. /ibna/