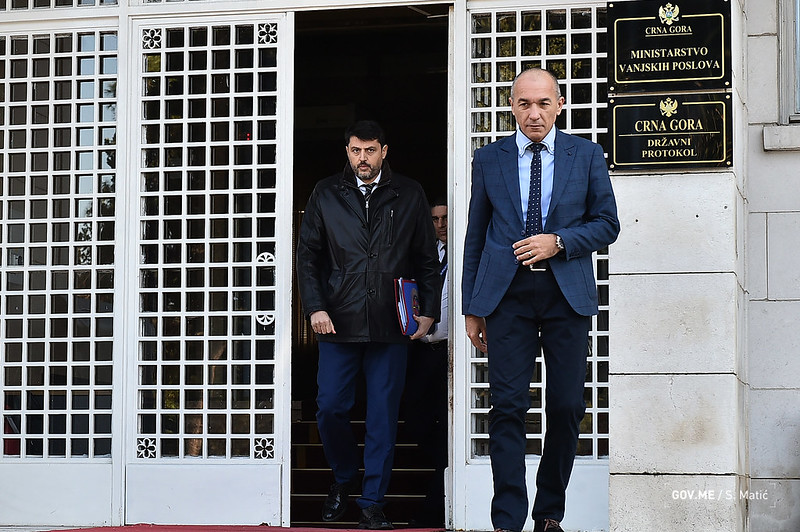 The Ambassador of the Republic of Serbia to Montenegro Vladimir Božović has been summoned to the Montenegro Ministry of Foreign Affairs after the Ministry served a protest note regarding the recent events outside the premises of the Montenegrin Embassy in Belgrade, which included an attempt last night to torch the Montenegrin flag.
The Secretary General Miodrag Kankaraš, on behalf of the Ministry of Foreign Affairs of Montenegro, strongly condemned the repeated attempts to burn the Montenegrin flag and the attacks on the premises of the Embassy, ​​as no reaction has been recorded by any Serbian state official yet.
"Lately, some statements that came from public figures have been jeopardizing the safety of our diplomats", Kankaraš stressed, expressing his expectation that Belgrade would immediately state its official position in accordance with the Vienna Convention on Diplomatic Relations, in order to ensure the integrity of the Embassy of Montenegro in the Republic of Serbia, as well as the protection of the emblem of Montenegro.
He stated that the uncontrolled protests in front of the premises of the Embassy of Montenegro in Belgrade, as well as the uncivilized behavior of the protestors and their attempt to set on fire the national flag of Montenegro, constitute movements that do not align with the principles of good neighborly relations between the two friendly states or with the principles of international law on ensuring the smooth and secure functioning of diplomatic and consular posts in the receiving country.
Ambassador Božović condemned the act as inappropriate, pointing out that it in no way reflected the official position neither of the state of Serbia nor its citizens.
"The Republic of Serbia condemns the protestors' shooting and attempt to set on fire the Montenegrin flag, something that the Ministry of Foreign Affairs will officially announce today", the ambassador said, adding that "the Serbian Foreign Minister Ivica Dačić expresses his regrets over those incidents".
He also emphasized that during his communication with the Minister of Interior Affairs Nebojša Stefanović it was agreed that all measures would be taken to protect the premises and staff of the Embassy of Montenegro. Božović expressed his respect for Montenegro as a neighbor and as an independent state, stressing that Serbia does not want to interfere in the internal affairs of Montenegro.
Ambassador Božović, following instructions from the Ministry of Foreign Affairs of the Republic of Serbia, refused to receive the protest note. /ibna