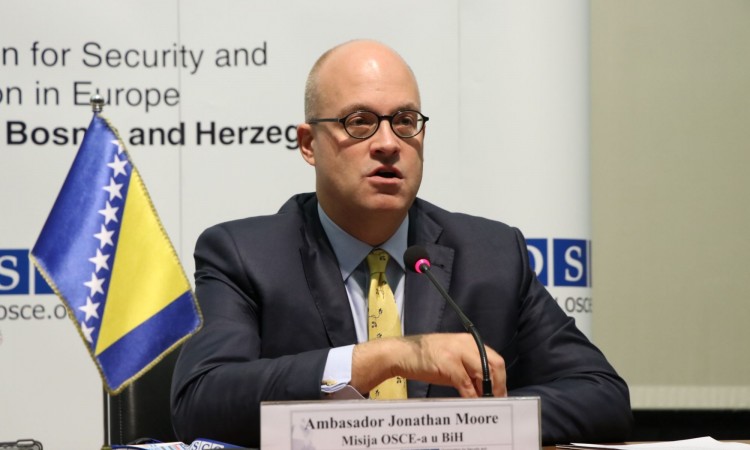 After three years of service as Head of OSCE Mission to BiH, Ambassador Jonathan Moore will leave his office on 3 September, and transfer the duty to present first deputy of International Community High Representative in BiH, Bruce Berton.
At the farewell press conference in Sarajevo, Moore said that, although there are noticeable improvements at the local level in BiH where people show that they can live together and have the same goals, at the level of "high politics" situation is different and there is not much reason for optimism. Recalling that the OSCE Mission to BiH has existed for more than 20 years, Moore summed up his three-year term in that position, saying that it was the work on presentation of the vision of 57 OSCE participating States, led by four countries that chaired this body during his mandate on the position – Switzerland, Serbia , Germany and Austria.
He pointed out that in those three years both general and local elections in BiH were held, and that the Mission opened office in Drvar municipality, as well as the temporary office in Stolac municipality, in order to"restore democracy. Also, during his mandate the representatives of the OSCE Mission to BiH hosted the largest officials of this organization.
"We fought for BiH children in different areas for a different issues. We support the hate-fighting coalitions across BiH, we also formed an advisory group of young people, but we also tried to share concerns with all citizens of BiH and solve their problems", Moore said.
Speaking about the situation in BiH, still-on-duty Head of OSCE Mission to BiH pointed out that he is still an optimist, not because everything is perfect, but encouraged by concrete successes of local communities and citizens who do not follow politics or politics. As he emphasized, in the area of high politics, there is no room for optimism especially due to the long pre-election period.
"It seems to me that the pre-election campaign for the 2018 general elections has already begun. We hear the names of candidates who will be candidates for some of the functions", Moore said.
He urged to voters and media to ask all candidates what elected officials will do at the first day after the elections for a better future for the state, such as the formation of a police forces which will be consisted by all peoples in BiH.
He also spoke about amendments to the BiH Election Law, saying that political representatives must find a solution because it is their competence, not the international community. Moore also stressed that there is no possibility of postponing the general elections planned for October next year.
A special part of the press conference was devoted to education segregation, and Moore reminded that fifteen years ago, seven years after the war, the conditions for education were poor, the children were completely separated and the intention was to build a "two schools under one roof" in order to socialize children, but that was supposed to be only an initial phase, not a permanent category. However, in some cantons of the Federation BiH, this is still a phenomenon despite the fact that it is contrary to international principles and judicial decisions. The idea of "two schools under one roof" practically means that children of Bosniak and Croatian nationality share the building of the school even they have different curriculum.
"There are also positive developments such as in Zepce, but in other municipalities there is no progress. In Capljina we still have two completely separate schools. For the solution of this issue, the common will of the leadership of schools, parents, and politicians is necessary", Moore said.
At the end of his last press conference on this duty, Moore added that the OSCE Mission will continue to be committed to work on issues of violent extremism, media freedom issues, issues of discrimination and segregation in general, and, in particular, in education and judicial reform s in BiH./IBNA