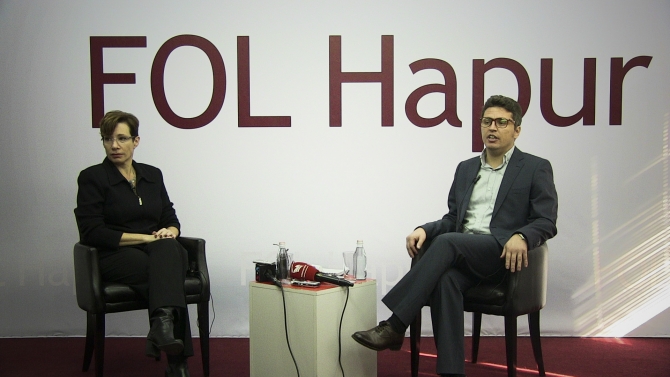 Pristina, November 6, 2014/Independent Balkan News Agency
By Elton Tota
US ambassador to Pristina, Tracey Ann Jacobson, has not spared her criticism against the behavior of political leaders in Kosovo.
In a debate hosted by "Speak" Movement, the US ambassador has talked about the political situation, the behavior of political parties, the calls of the opposition Bloc for protests and corruption, which according to her, is a "tradition" of political leaders in the country.
Jacobson said that Kosovo is not a colony of the USA, therefore it's up to politicians of Kosovo to sit down and talk.
"I'm very unhappy and like you, frustrated about the slow pace of the formation of institutions in Kosovo. This situation can only give way to corruption, economic slowdown and within a few months, public sector may even not get paid", declared Jacobson.
Jacobson said that not only salaries, but all financial issues are in danger, if Kosovo doesn't form its government as soon as possible.
"This situation is not necessary. These political maneuvers must come to an end. What do I mean by this? We have the ruling of the Constitutional Court which PDK says that it entitles it to the election of the speaker of parliament. If people are called to protest, than this is a political maneuver", says Jacobson.
Jacobson said that lack of communication is not the best way.
"It's time for politicians to find a way out of this situation, which they, themselves caused. I believe that politicians must sit down, communicate, cooperate and find ways on how to move forward, because nobody will benefit at 100% what he wants. Everyone must give a little. Everyone must do accept compromise. I don't know how this issue can be solved without communication", adds Jacobson.
Ambassador Jacobson has also talked about the dropping interest of Washington on Kosovo.
"It's been a while that Washington asks me where the problem is and why is it taking so long to political leaders in Kosovo to form the institutions of the country. But recently, I have not heard anything else from them. Nobody is asking on Kosovo, because people lose interest. This is not a good thing for Kosovo, because you're a new democracy and you need friends", says the US diplomat.
At the end of this debate, Jacobson launched a direct message for political representatives in Kosovo.
"I will continue my work, by meeting political leaders and by telling you that it's time to move forward", concluded ambassador Jacobson. /ibna/