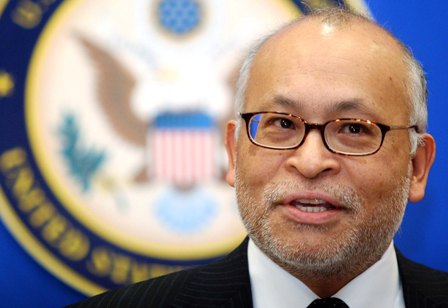 Tirana, June 17, 2013
During a talk with citizens on Facebook, the US ambassador in the country, Alexander Arvizu has considered the civil administration as inefficient.
According to him, central and local government must not be an employment agency, as according to him, this is often the case in Albania.
Arvizu said that Albania needs to improve infrastructure, including the road network in order to boost commerce, tourism, etc.
"I believe that pressure is being put on voters. The schemes of those who put pressure will succeed only if they manage to intimidate individual voters. Thus, you voters have the power to overcome this intimidation. The choice is yours", said the US ambassador.
Ambassador Arvizu also said that ODIHR plays a key role in observing elections within international community, where he expressed his assurance that the US embassy will be entirely committed to help in monitoring the elections by being in constant contact with ODIHR and other international partners.
The US diplomat said that the American embassy has informed ODIHR about several cases where voters have been instructed to photograph their vote as a proof, and underlines that if this is the case, it's against all international standards.
Arvizu appeals for massive participation in the polls, as the people are those who decide which coalition or party they vote.
As far as the election result is concerned, Arvizu declared that it can be narrow or one of the parties may be a clear winner in spite of the result in a zonal level. /ibna/