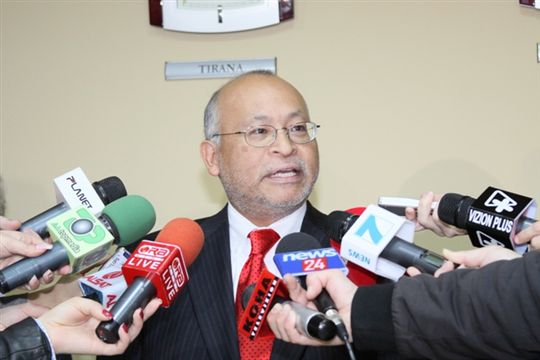 Tirana, September 23, 2013
US ambassador to Tirana, Alexander Arvizu has guaranteed support from the USA for joint investigative units in the fight against corruption. In a speech held during a meeting with 7 specialized investigative units, ambassador Arvizu has encouraged the work of these units and has demanded from them to intensify investigation of corruption cases.
'We support joint investigative units because we believe in a regional and national approach. Joint investigative units that fight corruption in the public administration have the full support of USA. I'd like to thank them for the work that they've done and remind them that they have the support of the US embassy", said Arvizu.
In his speech, Arvizu has also talked about the justice system, stressing the trust that must be restored on courts.
"Judicial system is a domain which enjoys little trust by the Albanian people, which sees it as a corruptive domain. Successful indictment requires the support of everyone. This is a transition period for Albania, but besides this, this time also offers opportunities. We need the public to denounce cases of corruption and be cooperative in the fight against corruption in public administration. It's important to start a campaign to convince Albanians not to offer bribes", said US ambassador, Alexander Arvizu. /ibna/