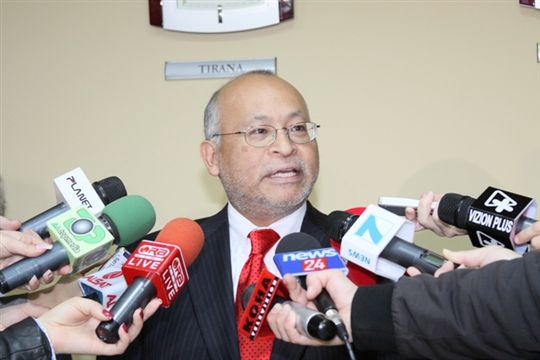 Tirana, September 19, 2013
US ambassador to Albania, Alexander Arvizu had a meeting today with the new Albanian Minister of Foreign Affairs, Ditmir Bushati.
In his speech, the head of the Albanian diplomacy said that the two interlocutors had discussed about the main objectives of foreign policy, while expressing gratitude for the support of USA.
Bushati said that in the framework of the consultancies that the new government has decided to have with the two strategic partners USA and EU, the ambassador was asked American expertise to collaborate with the Foreign Ministry in order to help in a better projection of Albania in the region.
On his part, ambassador Arvizu considered minister Bushati as a competent politician, by saying that his involvement in last legislature as part of the parliamentary integration committee will help him to fulfill his duties as minister.
"We talked about the visit which was just held in Brussels by Prime Minister Rama and several members of the cabinet, but also on the next visit to New York. USA have been delighted to see active diplomacy exerted by the Prime Minister and minister Bushati with our partners and friends. We're honored to receive the demand of the minister for assistance in strategic developments", said Arvizu.
Arvizu also said that Albania has success stories to share with others and stressed that growth in partnership is expected. /ibna/